A Clean Wheel-Tire Combo: Erie Brush's Poodle Brush and Dressing Applicator
By Del Williams
To win over carwash customers with the cleanest wheels and tires, Erie Brush offers its most powerful combination yet: the Poodle Brush or Wheel Wonder and a rugged tire dressing applicator.
Unlike conventional wheel brushes that can be too small to sufficiently cover larger wheels or ride along the outside edge leaving the interior un-scrubbed, Erie Brush created innovative brushes with varied filament lengths that thoroughly, efficiently, and cost effectively clean wheels and tires.
With unique names like the Poodle Brush, named because it resembles a well-manicured poodle, and the Wheel Wonder these brush filaments vary in size between three to seven inches in a wave-like pattern. As vehicles travel through the conveyor carwash, the longer bristles reach deep into wheel crevices while the shorter bristles clean the tire and wheel surface.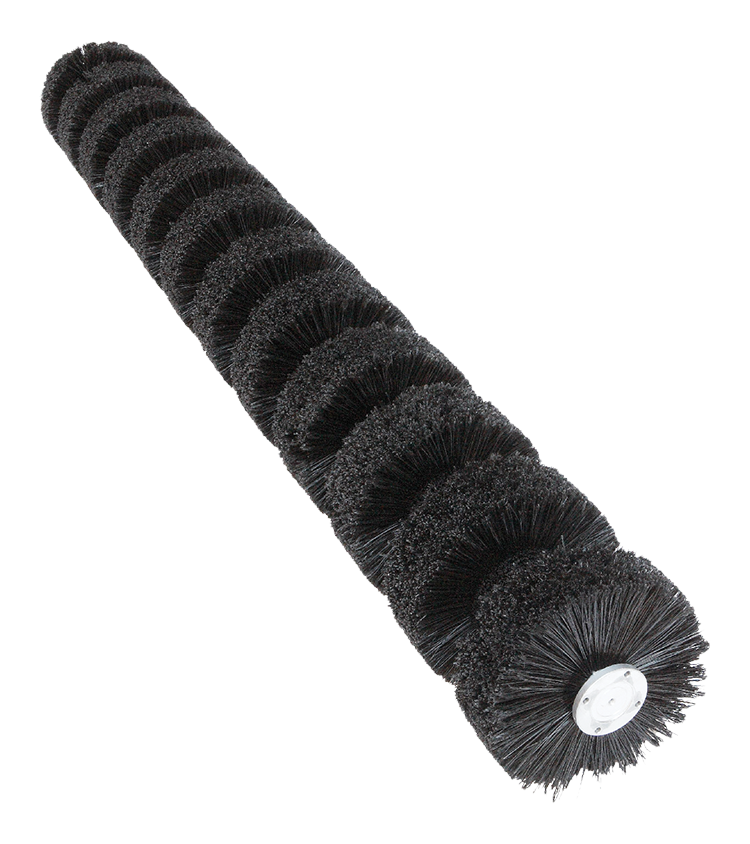 The contoured brush designs reach higher and get in much deeper on larger vehicle wheels, rims, and tires for a more complete cleaning. These uniquely shaped, automated wheel brushes can be used on the smallest cars to the largest vehicles without adjustment, and are gentle on all types of wheel surfaces, whether steel or aluminum.
In terms of longevity, wheel brushes are designed to survive many thousands of vehicles with very little maintenance. These high-quality brushes are manufactured with superior filaments, more fill density, and a very solid core so are very resistant to damage from vehicle impacts.
To add greater shine to the entire black wall of the tire, Erie Brush tire dressing applicators are designed to have the optimal number of brush filaments of the appropriate length and texture. Erie Brush's tire dressing applicator brush is designed with a solid 1-7/8-inch steel core strong enough to withstand being driven over by a large vehicle, which is known to occur in the field.
For more info, call 800-711-3743 (ERIE) in US, 773-477-9620 internationally; Fax 800-798-3743 (ERIE) in US, 773-477-6030 internationally; email sales@eriebrush.com; visit www.eriebrush.com; or write to Erie at 860 West Fletcher St., Chicago, IL 60657.  
Del Williams is a technical writer based in Torrance, California. He writes about health, business, technology, and educational issues, and has an M.A. in English from C.S.U. Dominguez Hills.