A Quick Pivot or Innovation to Support Foodservice Safety During a Global Pandemic
A Quick Pivot or Innovation to Support Foodservice Safety During a Global Pandemic
By Meline Beach
As the world continues to cope with Covid-19, the convenience and gas industry quickly realized their place as an essential service to consumers who seek various necessities in a safe and convenient manner. Not only are consumers visiting c-stores more frequently, but they're adding more to their cart during each visit as they shift their habits from casual and fine dining to eating at home.
In order to meet this increased need, many businesses have had to pivot their product and service offering and ways of working. This includes newly established safety measures as heightened awareness on cleanliness requires owners and operators to commit to keeping their stakeholders safe.
Daily operations from equipment handling and foodservice to signage and community service, the C&G industry is responding with care and concern for staff, customers and the communities they serve.
Convenience & Carwash Canada spoke with a few existing and new suppliers to the C&G channel in terms of how they're surviving their business and supporting this industry.
Common Equipment & Foodservice Stations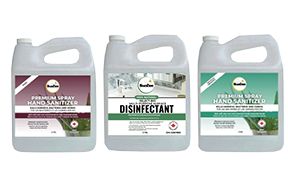 To help c-store owners with their foodservice programs and seize this growing market share in a safe manner, Western Refrigeration developed industry partnerships and innovated new parts and products to minimize in-store health and safety concerns.
"In terms of equipment, we recommend touchless options for consumers to access product or dispense food or beverage, like equipment that relies on infrared sensors, or open deli cases without any handles," says Chris Midbo, territory manager at Western Refrigeration. The Calgary-based company developed an add-on tool to existing door handles for a hands-free opening. "The tool is essentially bolted on to an existing handle that requires an elbow or wrist to open, not hands, which reduces the risk of germs getting to one's face."
In terms of service calls, Western Refrigeration has initiated new safety measures including having technicians wear a mask while on site and washing hands upon entry and exit. Technicians are also asked to increase the barricade distance around their workspace to meet the social distancing requirements, and tools are not to be shared, including pens when signing any paperwork.
Many c-stores have removed their self-serve coffee and foodservice stations or changed it from self-serve to clerk-served.
Parkland, a leading convenience store operator and supplier and marketer of fuel and petroleum products, kept their coffee cups behind the counter at the start of the pandemic. While their locations have resumed their self-serve coffee stations, they've implemented additional cleaning protocols, including frequent sanitization, to ensure staff and customer safety.
"We are committed to ensuring our customers and staff are safe," says Simon Scott, director of communications at Parkland, who noticed a rise in consumer trust, responsiveness and sales across their stores. "The quality and cleanliness of our stores and foodservice are paramount to our customers and our success."
Single serve items like condiments and individually wrapped cutlery will also reduce chances of cross contamination. Offering hand sanitizer at the counter, posting the sanitization schedule and visibility cleaning for health (disinfecting all high-touch surfaces, such as entry doors, cooler doors, countertops, foodservice areas, drink stations, checkout areas, restrooms and fuel pumps) will also instill a greater sense of confidence with customers.
Signage & Sanitizers
Signage, as a form of communication, is an important means of keeping customers informed. Nexus Exhibits, a premier Canadian provider of innovative visual displays and services for exhibits, events and environments focused on the tradeshow industry before Covid-19. As soon as public health orders shut down large gatherings of over 250 people, the tradeshow industry immediately collapsed.
"We lost approximately 30 per cent of our expected traditional yearly revenue in a single day as our industry was brought crashing to its knees," says Milena Radakovic, president of Nexus Exhibits Ltd. Rather than become obsolete, the Calgary-based company took a grassroots approach to innovation and quickly pivoted their product offering to meet the safety challenges faced amongst their business contacts.
As an expert in signage and merchandising displays for tradeshows, Radakovic changed her focus to essential services and offered high-end communication signage and hygiene protective guards for counters at low costs. These packages would allow clients to have required signage to keep their businesses open.
"While this type of signage was not a part of our traditional product offering, it was something we could easily pivot to with our current infrastructure," says Radakovic. "We worked on sourcing required personal protective equipment such as face masks, face shields, disinfectants and sanitizers at a time when no one else could find them."
Nexus Exhibits now offers customized packages to the C&G channel that includes physical distancing signage, PPE, and acrylic protection barriers, which can be cut to any shape for every need, and ranges in cost from $100 to $175 depending on size. Their branded masks are also popular and range from $4 to $6 each.
Christine Teschl with SFI FUELS also diversified her business focus when the pandemic negatively impacted her target market in the automotive and oils sands industry. Her business focus went from fuel additives to hand sanitizers and disinfectants. Within 60 days, she launched Sunbee – a company focused on Health Canada registered hand sanitizers and surface disinfectants. Proudly made in Canada, Teschl's line of natural products include gel and spray hand sanitizers and chemical-free disinfectants and degreasers – in varying sizes for retail sale and commercial use.
In the midst of a global pandemic, hand sanitizers are in high demand. Sunbee's competitive advantage is its all-natural ingredient list featuring 100 per cent organic aloe vera and a combination of essential oils rich in antioxidants and natural cleansing powers, known to moisturize and protect the skin against harmful organisms. The company's travel size spray is popular to disinfect vehicles and other close surroundings.
"We've been servicing a number medical and dental offices and are keen to expand to the C&G industry," says Teschl. "Our products come in light scents such as vanilla, citrus and tropical in 100ml individual use and one gallon refill jugs, which make them ideal for convenient retail sales, and profit margins can range from 15 to 30 per cent depending on volume."
Customers will take comfort in seeing staff and suppliers follow regular cleaning and sanitization schedules, that face masks are being worn, social distancing measures are practiced, hand sanitizers are readily available and hygiene shields are in place at checkout to protect everyone's health and wellness.
Communication & Community Service
C-store foodservice trends, such as takeout, meal kits and food delivery are likely to continue beyond this pandemic. A shift in hours of operation to ensure proper cleaning routines is also quite likely to continue. Communicating this information to your customers are important efforts to build trust and loyalty.
Posters at the pump can draw customers back in store and help increase sales. Posters can also serve as a reminder of safety measures, such as proper handwashing practices and social distancing guidelines. Posting information that promotes truth and transparency with your location's cleaning practices might also help instill confidence with your customers.
Beyond in-store signage and posters at the gas pump, many c-stores are leveraging social media as a means of communication with customers. A business Facebook page will allow you to post foodservice photos and features, as well as answer questions and respond to reviews. Leveraging social media on a regular basis will serve as a reliable communications tool that customers can use to re-view menus, call-ahead any orders or work with third-party delivery services.
Social media is often used to promote goodwill efforts as well. Parkland leveraged their company's social media channels to communicate the good work they were doing for first responders and Food Banks Canada. In an effort to thank first responders and truck drivers who kept the supply chain moving, Parkland offered significant discounts on fuel and meal replacement items. The company also partnered with Food Banks Canada in supporting their delivery needs with fuel supply by way of gas cards and healthy snacks for their emergency food hamper program.
Sunbee's hand sanitizers are also available for charitable fundraisers with personalized branding options and volume discounts.
This pandemic has not only raised awareness and a greater sense of appreciation for essential services, but it has also encouraged compassion and empathy and a commitment to giving to those in need.
Meline Beach is a Toronto-based communications practitioner and frequent contributor to Convenience & Carwash Canada. In addition to freelance writing, Meline provides communications and public relations support to businesses across Canada. She can be reached at www.mlbcomms.ca