Gaining Momentum in Canada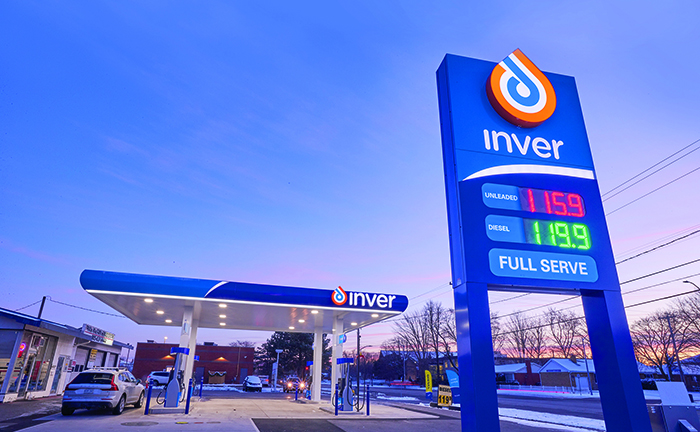 By Meline Beach
From a start-up in 1992 to an international supplier and distributor of transportation fuels, Greenergy provides customers with a range of fuels across the U.K., Ireland, Brazil, the Middle East, and Canada.
IN CANADA, GREENERGY SUPPLIES gasoline, diesel and other speciality products, such as higher percentage biodiesel blends, TOP TIER approved gasoline blends, marine diesel and E100 advanced biofuels. 
Greenergy combines the experience of operating a retail portfolio of national and regional brands, with supply chain expertise to meet the needs of its customers. The company emphasizes its commitment to delivering supply reliability, sourcing product from multiple channels and bringing fuel supply locations closer to its customers.
In 2020, the company merged with BG Fuels, a leading Canadian gasoline and convenience retailer. This transaction allowed Greenergy to expand its capability and expertise across the whole supply chain – from fuel origination, infrastructure and supply to gas and convenience retailing. This merger enhanced Greenergy's strategic position in Canada as part of the company's growth strategy to expand its retail footprint, providing customers with low-cost, reliable fuels and a leading convenience offer. 
Outside of Canada, Greenergy is a national supplier of road fuels in the U.K. and is also Europe's largest manufacturer of waste-based biodiesel with two manufacturing plants in England and one in the Netherlands.
Convenience
With approximately 250 retail sites in Canada, Greenergy operates a portfolio of fuel brands: Mobil, Breakaway, Inver, Mr. Gas and Simply Gas. This portfolio includes company-owned, agency-operated and independent retail sites. 
In 2018, a new convenience brand, Waypoint, was launched. 
"Waypoint is a convenience brand developed specifically for Canada that celebrates local and regional products and strives to create unique ways to connect customers with their community in a modern and friendly environment," says Olga Pigeon, marketing and convenience retail director. "The key differentiator for our Waypoint stores is around these being local and neighbourly."
She adds, "Through Waypoint's Localicious Program, local brands have the opportunity to showcase their products, thereby supporting local businesses and the communities in which we operate. We see the dreams of many local based businesses taking off, as consumer demand for local products grows."
Local brands are benefitting from greater consumer and retailer interest and support for local products, with many having to increase production to meet demand. 
"Joining Waypoint has been an amazing experience; we have enjoyed great success expanding our business beyond our hometown," says Shawn Scott, first-time entrepreneur and founder of Sudbury-based Local Jerky Plus. "Waypoint has allowed us to build loyal customers and give back to our community."
This strong "buy-local" demand also generates job opportunities in local communities as these businesses grow and bring more products to Waypoint shelves. Scott recently opened a new 1,000 sq. ft. plant to increase production capacity, which created a number of local job opportunities. 
Troy Kamphuis-Finnigan, CEO and president of rök Glacier Water, another Waypoint success story, comments, "I think the Localicious' program is testament to the changing consumer. Buying local also appeals to environmentally-conscious consumers and helps our local economy."
Smartpoint is the company's latest launch in the c-store sector, as an unbranded solution for independent dealers who want to maintain control of their business but benefit from the greater purchasing power of a national chain. 
Across its network, Greenergy plans to double the number of Waypoint branded convenience stores by the end of 2023.
 
Reliable Partner in Fuel Supply
Supplying customers from Toronto, Hamilton, Thunder Bay and Johnstown, Greenergy's operations are supported by tanker, sea and rail-fed terminals, along with storage locations in Ontario, Quebec and the U.S. mid-west. This distribution network, coupled with access to a global supply chain, allows the company to adapt to changing markets and helps sustain a growing portfolio of fuel supply locations. 
Greenergy also provides the independent retail market with a choice of branded fuel offers – Inver and Breakaway. 
"We offer dealers flexibility and supply reliability," says Mike Healey, Greenergy's vice-president of commercial and business development. "In such a competitive retail market, we are committed to providing our customers with reliable, low-cost, quality fuels and a responsive team to support them, especially to customers in regions that have historically been underserved."
 
Carbon Conscious
Founded over 25 years ago, Greenergy was one of the first to supply low emission diesel that offered significant air quality benefits, creating the standards for fuels supplied today. 
Sustainability is integral to how Greenergy operates. It is embedded in its history and is a key part of the company's values and culture. With a purpose to drive transport decarbonization, Greenergy supplies high percentage biodiesel blends to commercial customers with cost-effective and environmental benefits. 
"One of the ways to reduce emissions of vehicles on the road today is through blending of biofuels into diesel and gasoline," says Healey. "Greenergy is already doing this, and as a company, we are continuing to invest in renewable fuels that can cut emissions in the transport sector today."
He adds, "Our business was founded to supply diesel with lower emissions than standard diesel, while offering significant air quality benefits. As we have grown, we remain committed to reducing emissions."
Over the summer months, Greenergy piloted B20 (an average of 20 per cent biodiesel, 80 per cent diesel) at select Mr. Gas locations in Ontario, providing customers with a lower-carbon fuel that has lower emissions, is cost-effective and does not require any engine modifications.
Leveraging its experience, Greenergy is able to meet local fuel quality requirements, creating value for customers. 
Meline Beach is a Toronto-based communications practitioner and frequent contributor to Convenience & Carwash Canada. In addition to freelance writing, Meline provides communications and public relations support to businesses across Canada. She can be reached at www.mlbcomms.ca