Little Things That Count
Little Things That Count
By Carter Hammett
It's spring in tiny Hastings ON, population 3,000. A bustling c-store welcomes customers into its brightly-coloured environs. Shoppers browse. Locals mingle. But wait: along with the standard cigarettes, milk and fast-food items, your eye comes to rest on a rather unique item: worms.
That offering makes sense. Hastings is the gateway to Rice Lake, a popular go-to fishing spot in eastern Ontario. It's also indicative of how well the store knows its customers. Along with the standard products sold virtually everywhere, many smaller c-stores tap into their demographic, seeking out value-added products and services that create reasons for customers to return.
When you talk to pundits, no matter where they are or what size their outlet, a common theme emerges: It's the little things that count. This means details and personalized touches that imply the difference between simply being a store or a shopping destination.
This can take many forms, says marketing consultant and founder of Barrie ON-based marketing firm Collaborative Haus, Nicole French. "Adding value is about understanding your customer and putting them first," she says. "If you know your customer and understand what their lives are like, what their needs are – their pain points – you can offer ways to solve their problems and become invaluable in their lives."
And, adding value is about two things, says French: Bringing customers into your store and keeping them coming back.
"An attractive entrance with enticing products on display can help to trigger the reminder of a need or initiate an impulse purchase," she says. "Seasonally, you can carefully select products to display that you know are needed. In the spring and summer put out flowers and plants, last minute sun toys and beach items, bug repellent, sun screen, fly swatters, etc. In the winter have shovels, snow brushes, blankets, windshield wiper fluid and other items that you know are essential. It's communicating to the public that you have these items and it's a quick stop rather than a full shopping commitment at a larger store."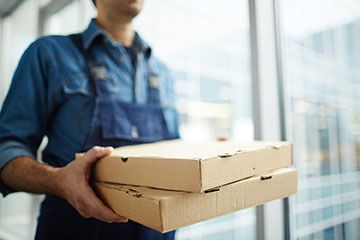 There is a trend right now in pop-up shops –  supporting small businesses that don't have store locations, says French. "These shops partner with other stores and then advertise that they will be in that location for a certain time period. Offering pop-up shops space in your store for certain periods can drive a whole new demographic to your location. It may become a great partnership. This also shows and grows your connection in the community and with other business owners."
Consider the idea of a carry-out service, especially helpful and attractive to seniors and shoppers with disabilities. It's an idea that acknowledges that these two communities have purchasing power, yet so simple, that it's bound to generate repeat business. We discovered one c-store that offered an umbrella lending service for unsuspecting customers who happen to get caught in the rain. Other outlets offer a pick-up service, so consumers can retrieve missed UPS deliveries or other mailed items.
Amazon (yes, that Amazon) takes the idea a step further with the recently-introduced Amazon Locker. The offering provides a self-service location to pick up Amazon.ca deliveries. Once delivered, you get an email notice which includes a pickup code, including the address and business hours of your locker location. While broadly available in the United States, the service is slowly making Canadian in-roads with locations currently in Vancouver and Toronto.
Services can extend beyond the in-store experience as well. Cultivate online relationships. Use social media to highlight specials, promotions, contests, and prizes. A brief quarterly newsletter can take customer contact to another level. The customer relationship can exist completely outside regular store hours as well. You might even get some great customer reviews through outlets such as Yelp.
As you've probably surmised, the simplest ideas are usually the most effective and often the most meaningful for the customer. Some ideas are based on seasonal themes, (like Christmas) or context (licenses during hunting season), but all good ideas are based on c-stores who actively listen to and want to enhance the customer experience.
"Customer service and personalization can go a long way," says French. "That feeling customers get when you remember them can keep them coming back. Create this feeling by having variety, meeting individual wants. But also, prepare for returning customers. Make them feel special."
Carter Hammett is a Toronto-based freelance writer and editor.