Port Alberni's Posh Wash
Port Alberni's Posh Wash
By Tania Moffat
Port Alberni is home to the Horvath family's state-of-the-art carwash, Port Posh Wash.
This carwash sets high standards in customer service and choice, offering both touchless and soft-touch automatics as well as self-serve wash bays with a few cool features. Kelly Horvath has been involved in the carwash industry for several years and is the mastermind behind this unique wash and its success. He diligently takes care of every aspect of the business from planning and development to growth and finances; Kelly does it all.
Kelly purchased his first carwash in Saskatchewan in the mid-1980s, which he later sold. By 1997, he and his wife Gail had subleased a small wash in Chestermere, Alberta. Three years later, they had undertaken the task of building a new state-of-the-art facility to keep up with the town's rapid growth. They ran the new seven-bay facility for five years before selling to a friend. Far from finished with the industry, the couple built their second carwash in Strathmore, Alberta, a small community located 35 kilometres east of Chestermere. "Both of our previous carwashes, West Creek Auto Wash and Strathmore Auto Spa, are still going strong. We continue to have an excellent relationship with Malkeet who purchased the wash in Chestermere," says Kelly.
After selling the Strathmore location, the Horvath family made the move British Columbia.
Tyler Horvath, Kelly and Gail's son, has been working the family business for the last seven years. "I got involved in the industry out of high school and started working in the parts centre for Washtech Ltd. in Calgary before returning to B.C.," he says.
Kelly and Gail also own and operate Washtech West, a distributor for Washtech Ltd. and Washworld Automatic Wash Systems. Kelly and Tyler's work with Washtech has given them a great experience, and both are well-versed in equipment installation, maintenance and repairs. The operation of Washtech West also proves beneficial as an extensive parts inventory is on hand and reduces downtime at their site.
The Horvath's businesses are 100 per cent family run. Kelly oversees the operations of both Port Posh Wash and Washtech West operations while Tyler and Gail split the shifts at the carwash. Besides providing friendly and knowledgeable customer service, Tyler and Gail look after the bulk of the site operations, including repair and maintenance.
Nitty-gritty Details
"We wanted to offer our customers a choice," says Kelly of their decision to include three types of washes. "We have a touchless and a soft touch automatic wash as well as self-serve bays. We used the Washworld Razor because of my experience with the company. Having installed and serviced a few of these washes in my time with Washtech Ltd. I was able to see how durable the Razors were. I saw how the machines held up after 150,000 washes. I have owned several other machines, and by far the Washworld Razor is the most trouble-free and best wash on the market, at least in my opinion," adds Kelly.
"Our soft-touch wash (friction style automatic) is manufactured by Autec," Kelly goes on to explain. "This is the preferred wash for customers who have a film buildup on their vehicle's surface. This wash will impress even on the toughest cleaning conditions."
For customers who would rather wash their vehicle themselves, Port Posh Wash has four oversized tandem bays. They were designed to accommodate two vehicles at a time or large boats/trailers, recreational vehicles, or semi-trucks. Included on the self-serve dial options are: marine flush (to flush the water through boat motors), and interior cleaner (which is a professional interior cleaning extraction system fabricated by Kelly).
Product Information
"We did a lot of work with Transchem testing soaps in this area before coming up with a formulation," says Kelly. It took four years of testing different combinations and ratios with their installation company before they found the right mix. "Our private label, Washtech Chemical Solutions Soaps are designed to work in the Port Alberni environment as well as Vancouver Island and the lower mainland," adds Tyler. The Horvaths also distribute their soaps through Washtech West.
Paul Romaniuk, business development manager at Transchem Group, says has known Kelly since he helped install and service his carwash in Chestermere, AB. "We have stayed friends since then, and I've worked with Kelly on differing cleaning issues over the years in his carwashes. In Port Alberni, he is using a two-step presoak for his touchless automatic. We have reformulated some of the soaps and presoaks for Kelly to get better cleaning results on the island while still being environmentally friendly. Transchem Group works closely with the Canadian Environmental Protection Act (CEPA) to meet or exceed environmental standards for carwash chemicals. All of our products are biodegradable and safe for the environment. The raw materials used in our products are all on the CEPA registry, including those in our private label products."
New Wash in the Works
Kelly says they are planning to build a second location in Parksville, also on the Vancouver Island, 48 kilometres east of Port Alberni. "We are still in the planning stage but hope to begin construction next summer. When construction starts both Kelly and Tyler will be hands-on, overseeing the daily operations. Kelly and Gail's daughter, Megan, will most likely take over Tyler's position at the Port Posh Wash operation.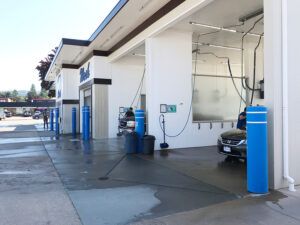 "The layout for Parksville Posh Wash will be basically the same. This time we will use Wash World products for both automatic washes, specifically the Razor and the Profile," states Kelly. The profile uses Washworld's digital surface profile system to measure the vehicles contours for precise cleaning with super soft polyethylene foam wash media. When asked if they would make any changes, Tyler adds, "we will move the vacuums outside to keep them dryer, and that will also clear up bay space and reduce waiting times."
Utilizing his past building experiences, Kelly  has learned to incorporate site and operational improvements into each subsequent wash that he builds.
Tania Moffat is a freelance writer, editor, publisher and photographer. She has worked in the publishing industry for the last 15 years on a wide variety of B2B and consumer publications, both in print and online. You can connect with her at info@chiccountrylife.com.