Proto-Vest Celebrates its Golden Work Anniversary
FIT, FABULOUS AND FIFTY
Proto-Vest Celebrates its Golden Work Anniversary
By Meline Beach
FIVE PERFECT 10s OR HALF CENTURY OLD. However way you look at it, Proto-Vest Inc., is an American success story that is celebrating its 50th anniversary. In marriage terms, a 50th anniversary is traditionally celebrated with gifts of gold, which symbolize prosperity, strength, wisdom and lifelong love. Perhaps the same symbolism could be true for a company that has reached its golden milestone. After all, prosperity, strength, wisdom and a love for what you do must be true for a business to survive and thrive this long in a competitive and ever-changing industry.
Proto-Vest, which stands for prototype investments, was co-founded in 1970 by Lucian Grant ("Mac") McElroy and Richard Unruh. While the company originally sold trash compactors, the two friends soon realized another opportunity worth pursuing based on their experience of owning a number of carwashes throughout Michigan. The carwashes they owned used 125hp dryers that became cost prohibitive during the energy crisis of the 1970s. This was the driving force behind The Stripper and its 15hp motor. A combination of curiosity and a can-do attitude led them to seek an effective and efficient carwash dryer that was more affordable to run. David Day a long-time friend of Mac was a significant contributor to the development of the machine.
Through a number of innovative developments and intellectual property management, Proto-Vest carved a niche and secured its position as a force in the carwash industry. At the heart of the company is a vision to build the best fully-automated vehicle drying systems that drives quality performance at the lowest noise level, energy consumption and operating cost possible, while achieving cost savings for carwash owners/operators. Fifty years later, there are over 40 patents on various Proto-Vest products related to dryer models and electronic control devices.
A NAME YOU CAN TRUST
With a diverse background in carwashes, leasing and manufacturing, Proto-Vest has earned its trusted reputation as a leading manufacturer of carwash drying systems in the United States and around the world. Mac McElroy held the reins for most of his life and engaged his family along the way. So much so, that the McElroy family name has become synonymous with Proto-Vest as the two were deeply rooted together with a reputation of hard work and earned success. Over the years all four of Mac's children have been engaged in some shape or form in the business.
Karyn Hopp, the second eldest of Mac's children, remembers sewing the blue fabric gussets of the original dryer bags at the age of 14 on her mother's Singer sewing machine at home.
"I sewed the first bag on my mom's sewing machine and then hand sewed most of the gussets when the sewing machine couldn't handle the volume of fabric," says Karyn.
While Karyn didn't end up in a manufacturing role in the company, she did support the family business as their corporate pilot for several years flying with her father in his Piper Cheyenne II aircraft. She'd often fly with her father, who was also a licensed pilot with instrument and multiengine ratings, to various customer meetings and tradeshows. Mac flew himself for years in various aircraft that he owned. He didn't stop flying until the early 2000s.
"I was able to learn a lot from my dad in our years of flying together," says Karyn. "He had a strong work ethic that he instilled in all of us. He was never one to quit easily and always encouraged us to find a solution to a problem. He'd say, 'Never say 'I can't.' You have to find a way to figure it out and look at it from another angle.'"
Those problem-solving skills were paramount in the company's journey to success. Research and development require critical thinking and problem-solving skills that Mac took seriously and applied in all his endeavours, starting with the most basic of problems: To develop a drying system that actually dries a car. A system that doesn't need any back-up help such as drying curtains or detailers. A system that is virtually maintenance-free, operates on a fraction of the energy, does not hinder line speed and causes absolutely no damage to the vehicle.
Chris McElroy, Mac's youngest child, has been engaged with the company since he was 12 years old and is the star in the company's numerous training videos as posted on the Proto-Vest website. During his 33-year tenure with Proto-Vest he held various roles within the company, including sweeper, welder, assembler, plant manager, president, and CEO. While he semi-retired in 2019, Chris continues to serve as consultant.
"I learned everything worth knowing about the business from my dad," says Chris. "One of my biggest achievements was inventing the AirGate. The first prototype created quite the shock… it lowers the demand on the motor by restricting the airflow during the period between vehicles. By leaving the motor running the ramp up time is shortened thus using less energy and reducing wear on the motor."
While Chris holds nine patents on various systems, including aircraft de-icing, bag design, the IP Stripper, and the AirGate, one of his fondest memories of receiving validation in the family business was related to fabricating a part with absolute accuracy measurement.
"My dad could express a lot with just a look," says Chris. "One time, we were working on a project and he asked me to cut him a piece of aluminum. After I cut it to size, he measured it with a tape measure, which he always had on him. He was impressed with the perfect measurement and I could tell from his look that I had earned his respect and had his vote of approval."
Entrepreneurial, nimble and perfectionist are characteristics that Kim McElroy-Pawel would use to describe her dad. As the eldest of Mac's children, Kim saw how hard her dad worked from a young age. Perhaps it was his experience in the navy in World War II or his rambunctious nature as a youth that kept Mac's energy level high. He was in the business of making money and having fun and was not afraid to change course in order to be successful.
"Dad was a workaholic. He was often gone before we woke up and home after we had gone to bed," says Kim. "He was tenacious and a textbook example on how to run your business – key character traits that served my siblings and me well as we pursued our own career paths."
Kim is a professional horse trainer and organic cattle rancher. When Proto-Vest relocated from Michigan to its current location in Glendale, Arizona, Kim worked for the family business for three years. She covered a variety of responsibilities, including reception, human resources and general management. While her passion remains in equine management and agriculture, she takes pride in applying her dad's entrepreneurial spirit and drive in her career.
Proto-Vest's success did not come without a share of loss and tragedy. Tim, the third born among his siblings, worked at the company in small parts, assembly and welding and eventually held the role of president prior to his untimely death in 2001. This tragic event left a mark on every member of the family, his friends and colleagues. The family's matriarch, Patricia McElroy passed away in 2003 of cancer at 70 years of age. Described as a career wife and mother, Patricia was a devoted volunteer and active member of her church community. David Day, a valued business partner of Mac's and mastermind behind many of Proto-Vest's innovative products and patents died after a series of strokes. He and Mac shared many high and low experiences, from turbulent times to key successes in the company's formative years. In 2013, at the age of 86, Mac died in a tragic car accident on his way home from work. Though he tried to retire a couple of times, he got tired of being retired and would return to his innovative ways. Mac worked hard and lived life well according to the memories expressed by friends, family, business associates and former colleagues.
In addition to his strong work ethic, Mac is thought of fondly and remembered for his loyalty, ambition, and charismatic personality. As posted on Proto-Vest's website following Mac's death, "…he was a vivacious leader with a passion for life. He celebrated innovation and worked with an ethic that very few can achieve."
"The void is huge," says Karyn, who admits the company's succession plan will move away from the family. "Since my father's passing, I've learned that he was a rare executive who could understand and manage all facets of a business including finance, product development, manufacturing, sales, marketing and customer service. For Proto-Vest, originating as a founder-based company, it's not an easy role to fill."
While the company has grown, it has never departed from its guiding vision despite personal tragedies and the industry's dynamic challenges and opportunities.
Macisms – A legacy of teachable moments
Anyone who knew Mac or worked with him at Proto-Vest may be familiar with his Mac-isms. As a straight-shooter, Mac was sharp witted with a good sense of humour. Though many of his Mac-isms may have been shared light-heartedly, and in a humourous manner, they also served as short lessons learned. Carved in memory, the following Mac-isms remain current by those close to him. With appropriate pause and consideration, they make good sense to those willing to listen and learn.
At my age, I don't buy green bananas.
If you can't afford the piano, then you don't need the bench.
You only lead me into the tall grass once.
If you're waiting for me, you're walking backwards.
Do you want a quick answer? It's NO.
No sense trimming a dead branch.
My father always said, 'Don't ever go to bed the same day you intend to go to work.'
We can build you anything, as long as you don't run out of money.
Intentions and innovations
Reaching a 50th anniversary in business does not happen by accident. Everything about Proto-Vest is intentional with an innate culture of determination driven by necessity.
Global situations and economic conditions often serve as catalysts in driving innovation. The oil embargo of 1973-1974, which drove energy prices high, caused great concern for the carwash industry with its high horsepower dryers. Rather than be down and discouraged, Mac was up for the challenge. He researched and developed possible solutions to combat skyrocketing electrical costs, and by 1975, Proto-Vest introduced The Stripper – the most energy efficient patented carwash drying system of its time. Its claim to fame was a 90 per cent savings in energy usage and a line speed of up to 120 cars per hour, resulting in the cost of drying a car at just two cents each. The complete, revolutionary multi-air jet water stripping system outperformed conventional driers while using only one 15 horsepower motor.
The Stripper's design technology was a differentiating factor between Proto-Vest and its competitors. In order to achieve desirable results with low horsepower, the company realized it needed to get the dryer as close as possible to the vehicle without touching or causing damage. The company applied stringent standards in material selection and took into consideration maintenance requirements and equipment lifespan for conveyor and automatic/rollover operations.
Confident of its energy efficiency, Mac offered an unconditional money back guarantee, published as an advertisement in an industry magazine. The advertisement, which included Mac's signature across his photo as proof of authenticity and commitment read, "That's right, buy a Stripper now, use it in your own wash for 90 days and if for ANY REASON you don't want to keep it, I will take it back and refund your purchase price."
Nothing screams confidence more than a money back guarantee. This kind of confidence, backed by a quality product, has attracted customers throughout North America and around the world, including Denmark, Sweden, England, Ireland, Turkey, Japan, Greece, and Australia.
Innovative product portfolio
Proto-Vest has earned its place and market share in the global carwash industry with an extensive line of vehicle drying equipment and accessories. The company has over 20 standard dryers from stand-alone structures to retro-fitted options that enhance performance. Proto-Vest also designs and engineers a number of unique and custom drying systems for any number of applications. Custom applications are handled factory direct to ensure customer requirements are met in an efficient manner. Even the colour of Proto-Vest's dryer bags can be customized beyond their current colours of red, black, green and blue. The company also provides repair services and refurbished inventory.
The opportunities are limitless. In addition to the traditional carwash industry, Proto-Vest has supplied dryers for automobile manufacturing, assembly line processing and bus drying. More recent applications include dryers for transport trucks and locomotives, airplanes, aerospace, and amusement parks, as well as for the pharmaceutical, food and agricultural industries. Proto-Vest can design and build a dryer for any need in any industry.
As Mac would often say, "We can build you anything, as long as you don't run out of money."
Proto-Vest's original Stripper has survived the test of time. Now known as the 90N, it features the same profitability advantages by using less energy and having lower operational cost than the competition. As stated on the company website, "With only 15hp, this system outperforms dryers using 120hp and higher while continuously providing unmatched drying quality. This is why the 90N is still the carwash industry's most efficient and effective drying system to date."
Not one to rest on its laurels, Proto-Vest has launched a number of models to meet the varying needs of carwash operators around the world. These include the IP Stripper, IP330, IP345, IP730, 90N, 90XS, InBayRM, Windshear, Windshear II, Sideshot II, T130, and T260. Of these, the following models have achieved top sales status: IP Stripper, T130, S130, Windshear and Windshear II.
The Proto-Vest IP Stripper dryer is designed to provide the best fully automated drying results while using the least amount of horsepower. The single overhead bag has a front and rear sensor that enables it to follow the contours of any vehicle within inches to optimize drying performance. Equipped with Proto-Vest's cutting-edge integrated processor, the IP Stripper mainframe includes a vehicle recognition system (VRS) which detects approaching vehicles and sets in motion a series of activations. The VRS differentiates between the types of vehicles that enter the dryer. It can even tell if a pickup truck bed has a cover or not. The VRS contains an integrated timer that tracks the frequency of vehicles being dried. The IP Stripper can dry 120 cars per hour while only using 30hp and one overhead bag.
The Proto-Vest T130 features a patented touchless design that uses only 30hp to dry vehicles traveling at a variety of line speeds. Its 84 Proto-Duck overhead bag is designed to deliver the right combination of pressure and volume to dry all horizontal surfaces and sides of a vehicle. This low maintenance system is constructed from durable materials to withstand the harsh carwash environment, making it a long-lasting stand alone compact or modular dryer that is perfect for conveyor operations.
The Proto-Vest S130 single 30hp unit has pinpoint drying capabilities using pressurized air flow to dry windows, doors, and fenders of a vehicle without touching. The system is designed as a stand alone or modular unit that can be combined with other Proto-Vest drying systems to create a full coverage dryer configuration that functions effortlessly at a variety of line speeds.
The Windshear dryer is ideal for both conveyor and automatic applications. Its single 30hp blower and three patented air delivery bags are designed to direct air down and around each vehicle, drying all vertical and horizontal surfaces without touching. The unit is considered low maintenance and suitable to fit limited space as a stand alone or supplemental dryer.
Similar to the model above, the Proto-Vest Windshear II dryer is designed as a stand alone or supplemental dryer for conveyor operations. The difference being this model uses two 30hp blowers, plenum and three Proto-Duck patented air delivery bags to effectively dry the top and sides of a wide array of vehicles at various line speeds without touching.
In addition to dryer systems, Proto-Vest also offers a number of accessories, including AirGate, the Silencer Package, Mist Eliminator, Tunnel Heater and Easy Install Motor Cover. Two of its most notable accessories are the AirGate and the Silencer Package.
The AirGate is a patented design invented by Chris. This accessory not only reduces energy usage but also prolongs the life of the dryer's motor by eliminating the ramp-up time between vehicles, all without affecting the performance of the dryer.
The Silencer Package was Mac's idea and is designed with perforated aluminum and sound detonating fibreglass insulation. The Silencer Package reduces decibels generated by the impeller's tip speed and rapid moving air drawn into and discharged from the blower. This technology enables systems to meet and exceed OSHA noise regulations. Proto-Vest is the only manufacturer in the industry to offer this accessory. According to Chris, you can have a conversation at a comfortable volume without issue while standing right beside the activated dryer with a silencer.
A tale of David and Goliath
While the saying "imitation is a form of flattery" is harmless in most circumstances, this couldn't be further from the truth when protective patents are involved.
In 1980, Sherman Industries Inc. sued Proto-Vest Inc. to invalidate the Proto-Vest patent because Sherman's model 1885 infringed the Proto-Vest patent and competed against the Proto-Vest Stripper.
Proto-Vest aggressively met Sherman's legal action in Federal Court in New Jersey with a counterclaim for patent infringement. According to Hal Milton, Proto-Vest's patent attorney who represented the company during this lawsuit, it was awfully expensive to defend a patent in court. For that reason, new and small players frequently cannot afford to pursue legal action against a herculean company, particularly in a far distant court.
Sherman was one of the largest carwash equipment companies in North America. The New Jersey-based company had a Goliath presence in the industry whereas Michigan-based Proto-Vest, as a start-up, represented David in the tale of two competing forces at opposite ends of the spectrum in size and scale.
"Perhaps Sherman felt that it was a sure win," says Hal. "After all, many smaller players do not have the same financial and legal resources to take action. However, it was different in this instance. Based on my research on the product in question, that being the bag of rectangular cross-section that Sherman copied and hours of cross-examining, I felt confident Proto-Vest was well within their legal rights. That, combined with Mac's personal resources and tenacity, we were determined to see this situation through."
Thinking back, Hal recalls their time in Philadelphia where Mac's deposition took place. Afterwards, when Sherman's attorney queried, "What time is your flight?" Mac, being the sharp-shooter and straight talker that he was, was quick to respond that he had his own plane, on his own schedule, and that he would leave when he's good and ready to go.
"The look on the opposing attorney's face was priceless," says Hal. "The underlying message was that we weren't playing around and that Proto-Vest had the resources to fully engage in this litigation."
The trial lasted a week and drew quite the attention as a rare patent case in the carwash industry. Not only did Proto-Vest win the trial, but they also won the appeal. It was determined that the Sherman dryer had in fact copied the Proto-Vest Stripper as the first and only dryer on the market to provide outstanding drying performance using a low energy consuming 15hp motor. In October 1985, Sherman and Proto-Vest decided not to proceed with a trial on the damages portion of the patent dispute and settled the litigation directly for over a million dollars. At some point thereafter, Sherman Industries went bankrupt.
"Winning that lawsuit was a game changer for Proto-Vest," says Hal. In addition to saying that Proto-Vest as a fantastic client, Hal described that lawsuit and courtroom presentation as an "iconic experience."
"Mac paid me well for my services as the matter proceeded," says Hal. "But after it was all settled and done, Mac presented me with a five figure $ TIP!"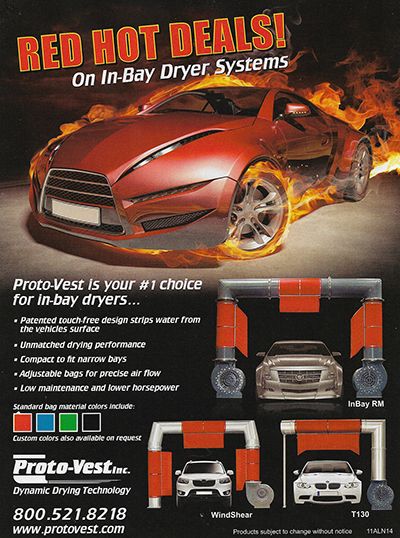 Trusted partnerships
Whether it's the courtroom, boardroom or tradeshow, Proto-Vest takes pride in fostering a company culture that inspires passion, demands integrity, drives innovation and cultivates positive working relationships – with employees, customers and its business network.
The company has been performance-oriented right from the start with a growth mindset based on respect and personalized attention. Mac knew to surround himself with smart people and build bonds of trust. And that's exactly what he did, often secured by his word and a handshake.
"Working as an electrical engineer at Proto-Vest was my first professional job in the U.S. after immigrating from Russia," says Alexander Faytlin, who retired from Proto-Vest in 2019 after 29 years of service. Mac had sponsored Alex and his family and added him to a number of patents. "My first major project was the design and development of a touchless dryer, the next evolution of The Stripper. I remember the founder and owner, Mac McElroy, was personally involved with every detail and enjoyed each successful step in its development, sometimes with Champagne."
Trust is earned and nurtured over time. And through time, the lines of business and friendship are often blurred. It wasn't uncommon for Mac to form friendships with business associates. One friend is particular is Tom O'Connell. Not only was he Proto-Vest's insurance broker, but his personally-owned carwashes also served as test sites for Proto-Vest's drying equipment.
"At one time in my career, I owned six car washes in Michigan," says Tom, who, at 81 years of age, has one remaining carwash that still features the original Proto-Vest Stripper. "I gladly tested Proto-Vest's equipment for one to two years at a time. Mac was a man committed to making his customers happy and his equipment is top notch in quality and performance. It was a win-win situation."
Tom described Mac as a demanding man who was the first to apologize if he made a mistake. He was open to suggestions and wanted equal effort from the people he worked with.
"Mac was moral, loyal and extremely hard working for the joy of achieving," says Tom. "He knew how to live and live right."
Proto-Vest's patent attorney shares similar sentiments.
"In my line of work as a patent attorney, it's not about the work itself but rather about the people and their energy," says Hal, who is now retired. "Mac was a titan, a golden knight in the industry and a personal friend to many he worked with."
Proto-Vest served as a training ground and launch pad for many employees, including Andre Guilbault, a former employee who worked at Proto-Vest for five years in the mid 1990s. Beyond his friendship with Tim, Andre spoke highly of his time at Proto-Vest.
"The company rewarded high achievers and great results," says Andre. "Everyone was on a mission to drive the business – we worked hard, launched products, sold products and had fun. Mac was a great teacher without being a teacher. I learned a lot and even though I moved on years ago, it's a small world and Mac's legacy is well known. Based on my early years of working at Proto-Vest, I've remained a lifer in the carwash industry."
New to the carwash industry, Tammy Gardner is also quite pleased with her experience working at Proto-Vest. Within six years, she was promoted from customer service manager to director of sales, where she continues to be mentored by industry professionals.
"I had no idea that this industry and Proto-Vest in particular, would lead to such opportunities and experiences that allowed me to grow into a better manager," says Tammy. "I have made friends with many industry professionals who have become mentors in helping me develop my skills and business knowledge. I learned very quickly that there is a lot more that goes on in the carwash industry than just soap and water."
Surviving a global pandemic
Another one of Mac's lessons of 'don't spend it all' has served the company well at times of crisis.
During the recession in the 1980s, Kim recalled her dad using his personal finances to keep everyone on payroll and equipment in inventory.
"Laying off any employees or having them perform idle work was not an option as my dad believed that kind of labour could not be recouped," says Kim, who admired Mac's ability to pivot and stay nimble. "Instead, we had everyone work through the crisis, which resulted in significant inventory that sold as the economy recovered. The large inventory of bags for the machines prompted Mac to offer a once-a-year Bag Sale that continues to this day."
Proto-Vest has managed to apply the same principles during the current global pandemic. While Covid-19 has created an unprecedent experience for everyone around the world with lockdowns and physical distancing measures, Proto-Vest is determined to weather the storm.
At the start of 2020, the company was on track to do well until the pandemic struck in March. Many capital purchases were put on hold and new orders ceased while the government closed all non-essential businesses in their effort to control the spread of the highly contagious and potentially deadly virus. Beyond a mandatory two-week shutdown at the start of the pandemic, the company kept all its employees and has seized this opportunity to organize inventory and reset manufacturing processes for just in time delivery – under the direction of its new president Jeff Reichard.
The future of Proto-Vest
With just over a year at the helm of Proto-Vest, incoming president Jeff Reichard has hit the ground running. Eager to maintain the reputation of the company's products and services, Jeff immediately attended a few tradeshows and customer meetings as a means of introducing himself to the industry.
As a seasoned executive with extensive domestic and international experience, Jeff has held CEO/president positions for multiple business sectors, including manufacturing, service industries, healthcare, distribution, software development, consumer products, automotive, and aerospace. He also has a strong background in private equity, which will serve him well as he positions Proto-Vest for the future.
"Proto-Vest revolutionized the carwash industry through drying technology," says Jeff, who was drawn to the company based on its success story and potential for further growth and diversification. "The McElroy name is a strong name and Mac built a good foundation with Proto-Vest. He was ahead of his time and his equipment designs continue to outperform its competitors and serves as the benchmark to this day."
New to the industry, Jeff has been able to look at the carwashing business through a clean lens with no prior or preconceived notions. Energy efficiency is a common theme within the industry and one that Proto-Vest has a well staked claim. In an effort to stand out and apply significant meaning to this important benefit, Jeff came up with a formula and a monetary value of Proto-Vest's energy savings capability.
According to his calculations, a two 30hp dryer can result in an energy savings of anywhere from $20,000 to $60,000 a year. If a new dryer costs anywhere between $30,000 to $60,000 the unit would be paid for within half a year.
"That type of savings and ability to recoup the cost of capital investments in that short amount of time is practically unheard of," says Jeff. "The unit is The Elite460. It features four bags at 60hp. With Proto-Vest's innovative bag technology and energy efficiency features, it's all about less horsepower, more drying power."
The Elite460 is the answer to the self-service carwash model – a model Jeff believes will be on the rise in the next few years as the industry consolidates to achieve greater buying power, discounts and profitability.
Tammy agrees. In her sales role, she has already seen significant changes occur over the last few years – from consolidation to acceleration.
"A good majority of carwashes are now turning into express carwashes, which means faster line speeds and no high-touch manual finishings," says Tammy. "I have also noticed that many municipalities are commanding a decrease in noise levels. Proto-Vest already has the quietest drying equipment in the market, with or without the Silencer, so I feel we are already ahead of the game and have been for quite some time."
While Jeff didn't have the opportunity to meet Mac, he does believe he's of like mind in terms of being fair and consistent and a person of his word: do what you say you're going to do, when you're going to do it.
With some management changes already in place, Jeff is confident his team is ready to take the company to the next level of success.
"It's a fascinating time for Proto-Vest and the carwash industry," says Jeff. "The company has a great legacy and culture from which to build upon even further. Proto-Vest is 50 years young and full of promise."