Shifting to a People-First Paradigm During the Pandemic
Shifting to a People-First Paradigm During the Pandemic
How c-stores & fuel stores are shifting to empathy, resilience and empowerment
By Marlene Milczarek
The ongoing pandemic has shone a light on the important and essential contribution that the convenience channel makes to our economy and communities. Executives and HR leaders of c-stores and fuel stores have had to rapidly adapt to a new business climate ensuring that the front line safety and wellbeing of not only their customers but also their staff – now operating as essential front-line workers.
Business as usual is no longer an option. Everyone has had to reevaluate their legacy operating models, and while doing so, a few guiding themes around staff management have emerged as we've entered 2021 – the need for empathy, resilience, and empowerment.
Taken together, these themes translate into several key actions HR teams, executives and managers can leverage to continue to lead their organizations through unprecedented disruption, and ensure staff are equipped with access to the right resources when needed.
Focus on Empathy: Protecting not only customers, but supporting essential c-store/fuel store employees & the industry.
The convenience industry has been there from the beginning to ensure that Canadians could access essential items. "The industry's priority has always been to protect the health and safety of their staff and customers," says Anne Kothawala, president & CEO of the Convenience Industry Council of Canada (CICC). Many retailers increased compensation and created their own recognition programs to celebrate and recognize the hard work and dedication of their front-line heroes.
They equipped staff with the proper training and protocols to deal with angry customers and to ensure that all regulatory requirements and health and safety standards were adhered to. The industry also stayed connected and leveraged best practices shared through organization like the CICC.
"We created a working group that initially met twice a week so members could benefit from exchanging experiences and ideas," says Kothawala. "Competitive issues were set aside and this was all about helping the industry navigate this incredibly complex myriad of ever changing regulations and requirements and subsequently passing on best practices ideas to store teams."
CICC also ran a social media branding and awareness campaign based on taglines like "from convenience to crisis, we remain open for you."
CICC conducted a survey of 2,280 Canadians across the country to gauge their opinions on how the convenience channel is handling the pandemic. Eighty per cent of daily shoppers said that their local store has supported their community and provided much needed support for frontline workers, including convenience store employees as well as other workers in essential services like health care.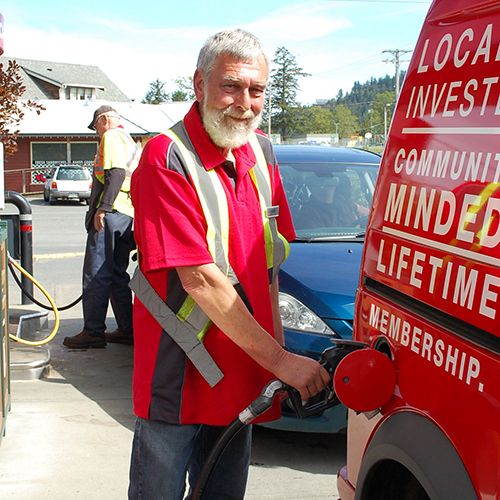 Focus on Resilience: Transitioning from business efficiency to business resilience. Resilient organizations are better able to respond and course-correct as market conditions vary – responding to customers, employees and their communities.
At Parkland Fuels, the health and safety of all employees, customers and communities has been a top priority throughout the pandemic, and the company took immediate action with extensive safety precautions. "For our frontline teams, we increased cleaning and sanitization practices in all our customer-facing locations," says Leroy McKinnon, senior communications specialist, corporate communications at Parkland Fuel Corporation. "Especially on high-touch areas such as fuel pumps, payment key-pads, door handles, counters, and our truck fleet."
For its communities, Parkland stepped up and donated more than $4.5 million to a variety of initiatives across Canada. "This included Parkland fuel discounts for frontline health workers, first responders, and Parkland's own frontline team; free showers and discounted food for Canada's truck driving community; and donations to food banks," adds McKinnon.
Lastly, in recognition of the way Parkland employees continued to deliver the essential fuels, services, and convenience products to customers that relied on them, all Parkland employees received a One Parkland Team recognition award before the holidays. "We are fortunate to have such a strong and resilient workforce," says McKinnon.
Focus on Empowerment: Over communicate & empower employees for their health, well-being, and psychological safety.
For Peninsula Co-op, their internal motto is now: We stay informed. We stay calm. We stay safe. "In general, staff are feeling more relaxed from a safety standpoint now versus the start of the pandemic," says Jen Munro, assistant petroleum operations manager, Peninsula Co-op.
Early on in the pandemic, safety protocols were put in place and firmly followed, helping to keep staff and customers feeling safe. "Also, every employee in the company was paid an hourly bonus, and received a recognition bonus in the spring, summer and fall for their extra efforts during this difficult and challenging time," says Munro.
Communication has been very important
At Peninsula Co-op, a COVID-memo goes out company wide, as needed, with important updates related to the pandemic, the business and staff updates. It includes messages from the CEO, HR and operations team, and lists several contacts/resources available to staff. Munro says there are also regular in-person check-ins from managers asking staff how they are, how their teams are, how things are going, what staff needs and how the company can help.
For Peninsula Co-op, "keeping spirits up and helping support people around mental health during this time is a large focus," says Munro.
Mental Health Support for the People Crisis
As we can clearly see, we are in two crises right now caused by the pandemic — an economic crisis and a people crisis, and organizations that acknowledge only one risk exacerbating the other. Organizations that prioritize people concerns will flourish; those that don't will wither. Better communication, teamwork, and empathy, may better enable organizations to respond quickly in times of tumultuous change, along with continuing to provide staff with access to the right resources at the right time.
MENTAL HEALTH & WELLNESS RESOURCES
If you are experiencing distress, call your local crisis centre.
A list can be found at: https://thelifelinecanada.ca/suicide-prevention-crisis-centre-contact-information/crisis-centres/canadian-crisis-centres/
Other Resources:
Canada Suicide Prevention Service (CSPS), by Crisis Services Canada, enables callers anywhere in Canada to access crisis support by phone, in French or English: 
toll-free 1-833-456-4566 Available 24/7
Crisis Text Line (Powered by Kids Help Phone) Canada Wide
Free, 24/7 texting service is accessible immediately to youth anywhere in Canada by texting TALK to 686868 to reach an English-speaking crisis responder and TEXTO to 686868 to reach a French-speaking Crisis Responder on any text/SMS enabled cell phone.
KidsHelpPhone Ages 20 Years and Under in Canada 1-800-668-6868 
(online or on the phone)
First Nations and Inuit Hope for Wellness 24/7 Help Line 1-855-242-3310
Canadian Indian Residential Schools Crisis Line 1-866-925-4419
Trans LifeLine – All Ages 1-877-330-6366
Mental Health Commission of Canada – Blog for Retail Workers: https://theworkingmind.ca/blog/support-mental-health-retail-workers-during-covid-19
Marlene Milczarek is a freelance writer and founder/chief strategist of SPINNING IDEAS, a marketing consulting firm based in Acton, Ontario. Her career spans over 16 years in marketing, helping businesses grow revenues, improve their branding and sales enablement tools. Marlene holds a chartered marketer (CM) designation from the Canadian Marketing Association (CMA), and has a bachelor of journalism from Ryerson University. You can connect with Marlene on LinkedIn: www.linkedin.com/in/marlenemilczarek.