Single-Use Plastics: Don't Be Left Holding the Bag
Single-Use Plastics: Don't Be Left Holding the Bag
By Angela Altass
The Government of Canada has stated that it is taking steps to reduce plastic pollution, including banning single-use plastics by 2021. The next couple of years will pass quickly and without taking action now you could be left holding the bag when the time comes.
Therefore, it is necessary for yourself, your business, and the planet, to be considering options and looking at what can be done to incorporate plastic changes into your life, both professionally and personally.
Less than 11 per cent of plastic used in Canada gets recycled, according to the Canadian advocacy organization Environment Defence, which would like to see Canadians living in a plastic-free environment by 2025.
"One thousand metric tonnes of plastic enter the Great Lakes every year and that's just a tiny glimpse of the overall problem," says Ashley Wallis, plastics program manager at Environmental Defence. "This is a once in a generation opportunity to make progress on plastics. We need to get it right and focus on policies that will build a circular economy and change our wasteful and destructive system."
Under the Canadian Environmental Protection Act, the 2021 ban is expected to include such items as bags, straws, cutlery, plates and stir sticks. The government has stated that the specific products and measures to be included in the ban will be determined following a State of the Science assessment on plastic pollution in the environment. Additional regulatory action could include requiring products to contain a set amount of recycled content, or be capable of being recycled or repaired.
"We've all seen the disturbing images of fish, sea turtles, whales, and other wildlife being injured or dying because of plastic garbage in our oceans," says Minister of the Environment and Climate Change, Catherine McKenna. "Canadians expect us to act. That's why our government intends to ban harmful single use plastic products where science warrants it, and why we're working with partners across Canada and around the world to reduce plastic pollution."
Approximately one-third of the plastics used in Canada are for single-use or short-lived products and packaging, which means that Canadian businesses and individuals need to get ready to change. As a retailer, it is time to seek out information and guidance, which probably means finding a waste collection company that can collect single use plastic alternative products, such as compostable plastic. Currently, most municipal curbside programs do not collect compostable plastics. The website www.findacomposter.com might be one place to start the search for a composting facility that does. BioCycle's FindAComposter.com site was launched in 2007 in collaboration with the Biodegradable Products Institute as a publicly searchable database of composting sites in the United States and Canada.
"In most cases, retailers would have to rely on privately operated haulers and composters for compostable plastic disposal," says Ken Hsu, general manager, Eco-Packaging. "A composting facility would be required to provide a proper composting environment for PLA (polylactic acid) products to compost. The proper conditions require a temperature of between 111 and 140 degrees Fahrenheit, moisture and bacteria."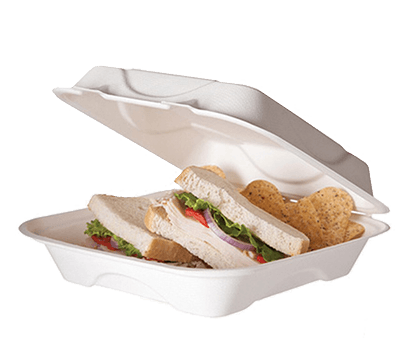 It is imperative that information is garnered from the right sources.
"There are some untruthful comments about PLA products in the marketplace, and there are many untruthful representations from companies that don't truly practice green," states Hsu. "At this time, we encourage retailers to connect with their local or nearest private composting facility to inquire about the disposal of certified compostable products. In an ideal situation, certified compostable products should be disposed with food scraps and be collected by municipal curbside programs. However, this will require municipalities to properly equip their composters."
A commercial composting facility should have the following equipment to compost products efficiently, says Hsu:
Depacker

 

–

 

De-packs package products, such as a sealed bag of soup, pineapple can, etc.

Sorter

 

–

 

Screens compostable products from other plastic products

Grinder

 

–

 

Chops compost items into small pieces for faster compost reaction

In-Vessel Composter/Anaerobic Digestion

 

–

 

Composting process

Screener

 

–

 

Screens out residuals that are not compostable

Hsu expresses some skepticism towards the government's 2021 ban of single-use plastics.
"For Canada to ban single-use plastics by 2021 is impossible from our current best knowledge," states Hsu. "The majority of developed nations are aiming for 2030 or 2050 for a full ban of single-use plastics. It is not quite feasible to complete in two years. Every day we use countless single-use products, not just from the foodservice industry, but also consumer packages like individually wrapped candy, gift cards, tape, etc. The federal government needs to come up with a solution, not just an announcement/enforcement. Compostable products are currently the best material to address the requirement of single-use products. However, for compostable products not to be included in the single-use plastic ban, either the federal government or private sector will have to build a proper waste streamline for compostable products. At Eco-Packaging, we are currently working with local composters to initiate the network building process and aim to have something up by April 2020."
Further information on Eco-Packaging's products can be found at www.ecopackaging.ca.
Greenmunch is a Canadian company, based in Sherwood Park, Alberta offering eco-friendly products to wholesale customers, including retailers and the foodservice industry.
"Eco-friendly products do not have to be overpriced and boring," says their website www.greenmunch.ca. "We have found unique and high quality products that are practical and fun at the same time. Our line of foodservice items includes biodegradable wooden cutlery, palm leaf plates and paper straws that are great for the earth and also provide elegance and style that plastic and Styrofoam could never do."
There are several alternatives to consider when it comes to replacing your single-use plastics, some of which may be more viable than others for consideration in a foodservice environment. Be prepared though, the various terminology can get confusing and seem somewhat overwhelming at first glance.
Bioplastics are plastics that are made from plant-based petroleum. Polylactic Acid (PLA) is made from corn, cassava, sugarcane or beets. Plant starch material (PSM) is made from starch derived from plants and requires an additive, such as poly bonding agents, to become final products.
"Earth friendly material is a description that can be misleading as we've seen a plastic bag printed with earth-friendly literature," says Hsu.
Sugarcane fibre products are made from sugarcane pulp, a byproduct of sugar production.
"Sugarcane fibre is microwavable and compostable," notes Hsu, "however, it absorbs moisture and becomes soggy. It is not transparent and does not provide see-through features for food presentation."
Paper board or paper pulp products are made from paper board and cannot hold liquids without coatings.
Wood products are compostable but have limitations regarding shape and size.
We are already seeing paper straws replacing plastic ones at many restaurant and foodservice establishments.
"Since the straw ban announcement in Vancouver in 2018, we have seen some other materials to make straws but we don't quite see them to be feasible," says Hsu. "Rice straws have food safety concerns regarding expiration, hygiene and it's a waste of the food supply chain. Bamboo fibre straws are not economically feasible. Stainless steel straws are reusable but the amount of rinse and wash required makes us concerned about the tradeoff from water pollution. Glass straws are hard to clean and poise a potentially high safety hazard."
The NextGen Cup Consortium was founded by Starbucks and McDonald's in recognition of the need to reduce single-use packaging in their operations. The consortium welcomes reuse and alternative delivery system submissions for the entire cup system: lids, straws, and sleeves. Further information is available at www.nextgenconsortium.com. The consortium's long-term goal is to solve a range of foodservice packaging waste challenges and is prioritizing the fibre hot and cold cup because it's a "common and voluminous waste challenge and a solution could be adopted across the large foodservice industry market." NextGen also believes design and material innovations to fibre cups could be applicable to other foodservice packaging solutions.
"No one is satisfied with the incremental industry progress made to date," says Colleen Chapman, vice president, global social impact, Starbucks. "It's just not moving fast enough. This is a moon shot for sustainability to work together as an industry to bring a fully recyclable and compostable cup to the market."
Hsu calls on municipalities to conduct research on their current composting capacities and limitations.
"PLA can possibly be recycled if it's properly categorized," states Hsu. "Currently it is being categorized under number seven and this is the number that sorting facilities would simply dump to landfill or incinerators. If we can properly categorize PLA to another number, such as eight, it can be collected, similar to what recyclers do for number one PET (polyethylene terephthalate), and repurposed into other products. We hope to see true solutions and actions from all levels of government; not just announcements."
Editor's Note: This is Part II of a two-part feature about single-use plastics. To read the first article in this series, please see the July/August issue of Convenience & Carwash Canada, or visit www.convenienceandcarwash.com.