Snap, Crackle, BOOM!– the joys of fireworks
Snap, Crackle, BOOM!– the joys of fireworks
By Meline Beach
There's something breathtaking about the wonderful effect of fireworks in the night sky.
A beautiful assortment of colours accompanied by thunderous booms and bangs. Besides the natural sound effects, you hear the oohs and aahs by wowed spectators at various occasions throughout the year, including New Year's Eve, Valentine's Day, Victoria Day, Canada Day, Civic Holiday, Labour Day, Halloween and Diwali.
Some c-stores across Canada have the option to sell fireworks while other stores do not. The option to sell depends on where you operate as the rules and regulations are not federally governed.
Jaki Parker, manager with Home Centre and North Corridor Co-operative in northern Alberta started selling fireworks in the early 2000s. "We only sell fireworks for approximately four to five weekends and a few small sales throughout the year," says Parker. "Over the past two decades, we have seen our sales grow exponentially as fireworks has become a destination category that brings consumers to our store."
Parker stocks up on BLAST-OFF! Fireworks – a leading national wholesale distributor, based in Manitoba.
Another key supplier is Mystical Distributing, a leading importer and manufacturer of family and professional fireworks with distributions centres in British Columbia and Ontario.
Convenience & Carwash Canada spoke with Bill Raynault, general manager, Mystical Distributing and Matt Bialek, president, BLAST-OFF! Fireworks to learn more about the category, what's trending and how to launch a successful planogram.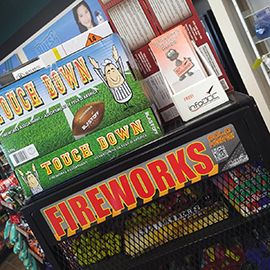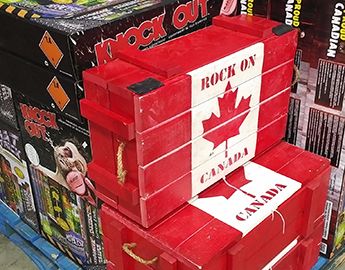 Product Assortment, Displays & Storage
There is a wide variety of fireworks available for the c-store retail market. BLAST-OFF! Fireworks offers the largest selection of fireworks in Canada, including every major manufacturer of Roman Candles, Rockets, Sparklers, Air Bombs, Cakes, Fireworks Family Packs, Fountains, Brazilian Fireworks, Cherry Bombs, Tube Type Fireworks, and Barrages.
"Every year, the category grows as we continue to build larger displays and give more shelf space to fireworks," says Parker. "The category seems to have no ceiling."
According to Raynault, the multi shot cakes have become the number one selling category for most retailers. "Customers love to ignite one fuse and get a show in a box experience – a scaled down version of those conducted by professionals," says Raynault. "Family Packs are a close second because the show is prepackaged and easy for a customer to purchase while staying within their budget."
In general, fireworks have a long shelf life as long as they are kept away from direct sunlight or heat and are stored in a cool, dry place. Any outstanding product or returns should be addressed directly with the supplier.
How ever you store your fireworks, it is imperative that they are displayed in a manner that prevents public access to loose products. Appropriate locations include behind-the-counter shelving, glass showcase displays, and closed display cabinets.
Home Centre stores their overstock in a cool dark storage room off the sales floor. Boxes are clearly marked as a precaution to employees.
"We build large WOW displays with crates and large packages on the sales floor," says Parker. "For smaller and individual fireworks, we put them in a locked glass display case, accessible with assistance from an employee."
BLAST-OFF! Fireworks offers a storage/display solution for c-store retailers interested in selling fireworks with their Loan-A-Cabinet fixture. The display cabinet meets all federal storage standards as stipulated by the Explosives Regulatory Division while ensuring adequate partitioning according to Canadian fireworks regulations.
"Fireworks must be kept out of reach from the customer until the time of sale," says Raynault. "Unless the firework is sold in an enclosed box that complies with Transport Canada regulations.
It should also go without saying that smoking is strictly prohibited anywhere near fireworks and that in case of emergencies, a working fire extinguisher should be installed at your c-store.
Category Trends
"Gender reveal multi shot cakes are trending right now," says Raynault. "These are single colour fireworks designed as all pink or all blue." Tagging on to the trend of surprise and unknown, Raynault adds that a brown paper packaged firework brand called Mystical Pro Pyro Series has become the number one selling brand in Canada due to its professional feel. "Customers want the big and loud effects."
Bialek points out that demand patterns for certain fireworks vary by region. "Victoria Day is popular in Ontario where we see the largest volume in sales in the Family Packs category," says Bialek. "Halloween is extremely popular in British Columbia, when typically, most fire/burn bans are lifted, and some parts of Eastern Canada. Novelties, sound shells, and roman candles are popular for this holiday."
Bialek adds that Diwali, celebrated by the Indian/East Indian population, is also a growing holiday for fireworks, with preference shown towards fountains and novelties.
Rules and Regulations
A number of rules and regulations for the sale of fireworks may vary across the country, but one rule that is federally sanctioned is the one related to age restriction and state of mind.
"Our cashiers ask for identification to verify customers are over 18 years of age," says Parker. "We also ask them where and when they are setting the fireworks off and record this information in our system. On the off chance a non-member purchases fireworks from us then we record their name, phone number and when and where they are setting the fireworks off." Parker adds, "If someone appears to be intoxicated or not of sane mind, we would refuse the sale. We treat ammunition the same way, if we don't feel comfortable making the sale we simply will not. If the customer refuses to tell us where they're setting their show off, we also will refuse the sale."
One point of concern that Bialek raises is related to the legalization of cannabis and how retailers must be aware if a customer is under the influence of not only alcohol, but of drugs as well before selling fireworks to them.
"While the ultimate responsibility for safe use is with the user, the retailer has to ensure the customer is of legal age and sane and sober mind before completing the sale," says Bialek. Much of this information is covered in Bialek's Retailer Handbook and other important literature he offers his retail partners free of charge.
"We offer training to retailers on various industry rules and regulations, as well as keys to success, in a variety of forms, including paper literature, an exclusive portal on our website for retail partners, one-one-one discussions at tradeshows and visits from our merchandising team," says Bialek. "Understanding compliance leads to retailer success and our success."
Bialek says he spends over 50 per cent of his time answering questions about regulations and compliance. "As a supplier and niche expert, I feel a moral obligation to provide as much accurate information as possible to a retailer." Bialek adds, "Plus, it's rewarding to work with them as partners in developing their strategy for success."
Bialek also warns retailers of counterfeit products that might not come with appropriate quality control and safety measures and that the transportation of fireworks, which is highly regulated with specific training and certification, should not be attempted without going through the proper distribution channels.
Planogram Profitability
One of the keys to success is knowing your audience, target consumer and category trends impacting your profit potential. Given their high (50 per cent plus) profit margin and limited window to sell, the opportunity to maximize profit is appealing if done well.
"The average purchase is large enough that we get convenience stores adding fireworks to their line up to increase their per sale rates," says Raynault.
Given that fireworks are commonly tied to certain occasions and times of year, retailers could consider a customer friendly display that promotes a bundled occasion. For example, if you sell balloons, greeting cards and other party favours, add fireworks to the mix and you've now bundled an appealing celebration for any event.
Bialek advises retailers to know their products and ensure they have sufficient inventory. "Many customers may require some guidance with their fireworks purchase. Offering your knowledge will enable them to make an informed decision, have a good experience with their fireworks show and likely come back again for more."
In an effort to be deemed your local and preferred fireworks provider, consider sponsoring or making a donation towards a community fireworks display. A show of community spirit and support can go a long way.