KEEPING COOL WHEN CHOOSING REFRIGERATION EQUIPMENT
KEEPING COOL WHEN CHOOSING REFRIGERATION EQUIPMENT
By Angela Altass
 Choosing the right refrigerators, coolers, and freezers to suit a specific store's needs can seem like a daunting task. As Chris Midbo, territory manager, Western Refrigeration, points out the least expensive piece of equipment is not always the best choice.
"When choosing a cooler or freezer, first consider the product that you want to be placed in the unit," advises Midbo. "For freezers used to place ice or basic frozen food items, a basic glass door unit is fine. If you are storing desserts and ice cream, a freezer that has a lower temperature threshold is key to maintain product integrity. Ice cream freezers will hold the product a minimum of 10 degrees lower. Product integrity is key for repeat sales."
One of the biggest advancements with regards to fridges, coolers, and freezers is the product that is going into the units, says Midbo.
"For freezers, the food manufacturers have developed single serve items that should be stored in a glass freezer near the microwave," he comments. "They can be re-thermed from frozen, and the product is good quality. The shelf life for the frozen product is long, so there is less shrinkage, allowing the site to offer a good hot food alternative."
For coolers, fresh deli items offer a great food service choice, notes Midbo.
"The key for a successful program should be having a cooler that merchandises the product well, so you have inventory turns," says Midbo. "It is also important to have open air coolers that are engineered to maintain temperature, even during defrost times."
"Higher end products, such as specialty drinks and fresh deli products, should be placed in open air coolers, and be placed in a high traffic area," he notes. "With all of the different options for coolers, you can find a unit that will fit almost any area."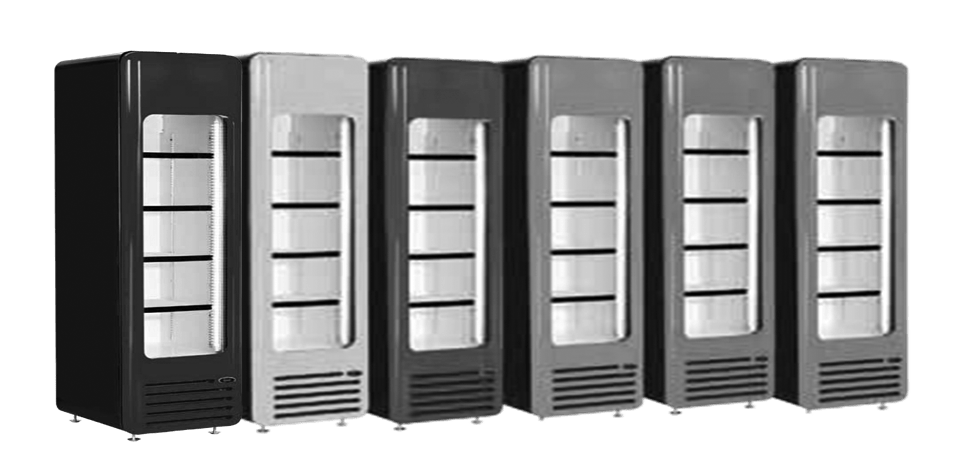 LED is now the standard lighting for both glass and open self-contained units, says Midbo, adding that this provides better lighting that is bright and eye catching.
"There are more options available now than in the past," states Midbo. "For cooler merchandising, open air coolers are the most common. There are no barriers between the product and the consumer. Glass doors are a barrier for the client. When going from a glass door cooler to an open air cooler, there is always an increase in sales. We have seen some locations double their sales when going to an open merchandiser."
There are also options for the size of units, notes Midbo.
"Different heights and lengths allow you to place a unit throughout the store," says Midbo. "Generally, coolers and freezers are placed back wall, but now, with different lengths and heights, you can place them at the front cash area or the end of a shelving unit. There are also island coolers available that can be placed anywhere in the store, provided there is access to electricity."
Units should always look full, and the product situated near the front of the shelves, says Midbo.
"Merchandising is huge for impulse sales," he says. "It needs to be eye appealing, neat and tidy."
Maintenance
All coolers and freezers will require some maintenance and up-keep, says Midbo, noting lack of cleaning as the number one cause of cooler and freezer breakdown.
"The units will attract dust due to the air flow because of condenser cooling," says Midbo. "The dust will collect on the evaporator coils and should be cleaned every three months or as needed. It is as simple as removing two or four screws and wiping or vacuuming the dust. If the dust is allowed to collect, the units will run hot and longer than designed, causing a premature breakdown. A quick clean will increase the life of any unit."
Maintenance is the most important thing you can do to extend the life of a refrigeration unit, says Dave Rademacher, product specialist-refrigeration, Unified Brands.
"Keeping the condenser coil clean allows the unit to operate more efficiently, requiring less energy and reducing stress on the system," says Rademacher. "Another important item is the gaskets on doors and drawers. They provide the seal of the unit, which allows the unit to run less and be more efficient, improving the performance, energy usage, and life expectancy. Gaskets require cleaning to maintain the best possible seal."
Many stores are now utilizing frost top units to display product or even coldpans for displaying and serving product, notes Rademacher.
"We recently changed over our refrigeration systems to be R290, or in some models R513," notes Rademacher. "What this has done for us is allowed lower energy usage as well as providing a green refrigerant with low or no global warming potential or ozone depleting potential. With this conversion on the R290 systems, we have changed over to electronic controls, which provide a broader temperature range with more precise temperature holding."
It is important to use the correct unit design per application, states Rademacher.
"One of the items to take into consideration may include the style of the unit, especially on prep tables," he notes. "In general, we promote the use of wrapped coldwall cooled units over forced air models. They do tend to carry a higher up front cost, but the cost of ownership is less as these designs require less energy to operate, far less labour to clean and have better performance than a forced air design."
Changing Trends
Refrigeration equipment is always evolving to fit the changing trends in food retailing, notes Matt Judkins, director of corporate marketing and communications, Hussmann Corporation.
Judkins explains that Hussmann, which recently introduced micoDS as its full-store propane R290 solution, works with its customers to understand their refrigeration needs based on several factors, including environmental, location and merchandising.
"As a total solutions provider, we can provide all aspects of store setup from design and layout to equipment selection, service, and installation," says Judkins. "The company is now working to help retailers meet customer needs with mobile solutions and the latest in click and collect technologies."
Every convenience store retailer sees different ways to best showcase their products, says Judkins.
"We are constantly conducting research to stay up-to-date on the latest consumer trends and needs," he says. "That research and direct input from retailers provide the basis for the latest on-trend product development."
Refrigeration is one of the primary ways that retailers keep products fresh, notes Judkins.
"Ensuring that the units and systems are in proper working order is a high priority to minimize shrinkage and maximize profits," says Judkins.
The main focus for c-stores is food service, where there are the highest profit margin and customer demand, says Midbo.
"Beverages, deli products and grab and go items are a huge part of a food service program," says Midbo. "Merchandising and product integrity are a must for these items. To maximize the sales in these areas, proper storage and merchandising is key. That's why selecting the proper unit that will highlight the items will maximize sales. Our consumer base is very impulse driven."