EV Market Continues to Grow
By Angela Altass
The report forecasts EV adoption nationally, in the United States, to reach almost six per cent of vehicles in operation by 2030. If accurate, the U.S. would need as many as 1.7 million charging stations.
The market for electric vehicles (EVs) continues to grow at an accelerating pace, says John Eichberger, executive director of the Fuels Institute. 
"Yet, there remains great uncertainty regarding how fast these vehicles will gain significant market share, how many chargers we will need, when and where we will need them, and what kind of chargers will be required in different locations," says Eichberger. "Recognizing that billions of dollars would be invested in building out EV charging infrastructure, we commissioned S&P Global Mobility to model what the demand for EV chargers might look like over the next 10 years. This report helps prioritize where those funds should be deployed to most effectively leverage business and taxpayer dollars as well as to deliver the greatest value to drivers."
The report forecasts EV adoption nationally, in the United States, to reach almost six per cent of vehicles in operation by 2030. If accurate, the U.S. would need as many as 1.7 million charging stations, of which more than 90 per cent could be strategically deployed Level 2 chargers. 
"People are curious about electric vehicles," says Cara Clairman, founder and CEO of Plug'N Drive, a non-profit EV outreach and education organization that works to help consumers make the switch to electric vehicles. "They want to learn and they need the right information. We do find that without a test drive, most people are not ready to make the switch."
Plug'N Drive goes into the community with electric vehicles, offering test drive opportunities and information.
"People often do not understand the benefits of EVs," says Clairman. "There are a lot of misconceptions about electric cars. We have an EV road show that goes out to events in different communities and we have a mobile EV education trailer (MEET). Over this year, we've been in four different provinces for a month at a time, giving the communities a chance to come out and try the cars. We also have a bricks and mortar facility as well, which is our Electric Vehicle Discovery Centre, in North York, Ontario."
Plug'N Drive recently partnered with Uber Canada to help drivers go electric. This initiative is being partially funded by Natural Resources Canada to increase awareness, knowledge, and confidence in EVs for ridesharing and delivery.
A survey of drivers on the Uber platform in Canada found that 71 per cent were interested in switching to an electric vehicle. Plug'N Drive creates and offers webinars as well as hosting test drive opportunities for the drivers, both ride-sharing and delivery.
"It's important to consider the total cost of ownership, especially when your vehicle is your livelihood," says Clairman. "We know that EVs are cheaper to drive and better for the environment but everyone's situation is different. This program helps educate drivers on how much money they can save as well as how much they can reduce their carbon footprint by switching to an EV."
ADS-TEC Energy recently announced a collaboration with P97 Networks and EvGateway to offer a turnkey solution to make it easier for convenience stores, gas stations and other retailers to bring ultra-fast EV charging to their operations. As part of the collaboration, the ADS-TEC Energy ChargeBox is now certified within the fast-growing EVGateway network, allowing it to meet secure networking communications standards for any utility or energy commission requirement nationwide in the U.S.
"Together we're enabling convenience stores and fuel retailers to seamlessly extend their existing business infrastructure into ultra-fast EV charging while allowing consumers to enjoy the same retail experience they've come to expect using their gas company or convenience store app and loyalty programs," says John Neville, chief sales officer, ADS-TEC Energy.
BTC POWER, a leading manufacturer of electric vehicle (EV) charging systems, recently introduced its 180 kW All-In-One (AiO) DC Fast Charger, the latest of the new Gen4 product family, providing an 80 per cent EV battery charge in as little as 12.5 minutes.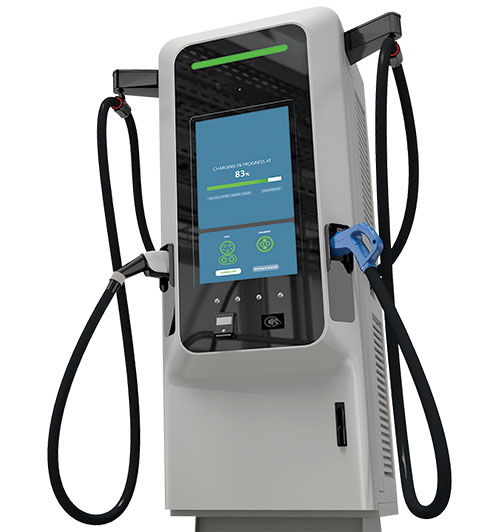 "BTC POWER is focused on continuing its legacy of innovation in the electric mobility industry," says Michael Wagner, chief operating officer at BTC POWER. "We're proud to design and construct EV chargers that help meet the increased demand, investment, and desire for electrification infrastructures as an alternative to traditional fueling options. The 180 kW All-In-One charger addresses the needs across a myriad of verticals. Its core platform not only addresses the current demand, but it is built on the foundation that allows it to adapt to the needs of future vehicles and their evolving battery requirements." 
The 180 kW AiO features a compact design with footprint similar to a standard gas pump. The lightweight, 500A liquid cooled cables make the charger easier for anyone to use. Customizable touchscreens (15-inch or 32-inch) provide ample space to communicate messages to customers.
Parkland Corporation has announced plans to build the "electric charging destination of the future" with a goal of setting a new standard for EV charging and customer experience. Parkland developed its initial architectural concept by sponsoring an international design competition operated by Electric Autonomy Canada.
"Consistent with our energy transition and convenience destination strategy, our goal in sponsoring this competition was to engage talented architects and designers from around the world, invite them to put the needs of EV customers first and entirely reimagine their experience," says Darren Smart, senior vice president, energy transition and corporate development. "We are committed to bringing the winning concept to life as part of our ambitious EV charging strategy in British Columbia and believe the concept could be extended to our other geographies when we see an opportunity to meet emerging customer demand."
The winning design was created by James Silvester, an award-winning Scotland-based architect with extensive global experience designing sustainable architecture. The design creates a relaxing environment where electric vehicle drivers can take a breath and recharge not just their vehicles, but themselves.
"It can be scaled large or small, accommodate the amenities we know EV customers value while they charge, such as our ON the RUN convenience stores and high-quality dining," says Smart. "It also creates a series of outdoor spaces. The result is a destination that customers can enjoy and an environment where nature is integral to the structure. We look forward to working with James to further hone the design and identify a suitable location where we can bring it to life and create a world-class experience for EV drivers." 
PLUG'N DRIVE PROVIDES THE FOLLOWING FACTS ABOUT EVS AND DRIVERS:
Drivers can save as much as $2,000 per year on maintenance and fuel. Electricity is about a quarter to 1/6th the cost of gas. Electric cars do not require oil changes, transmissions, or exhaust systems. They have only 20 to 30 moving parts, whereas gas cars have closer to 2000 moving parts. This means far less to break down.
An average Canadian driver drives about 20,000 kilometres a year. Some drivers on the Uber platform go even further. Fortunately, most fully electric cars travel 200 to 500km on a single charge. When an EV is idling, the electric motor draws only a small amount of energy from the battery, whereas gas engines are continually burning fuel and money.
If a driver needs to charge while on the road, Canada has over 6,000 public charging stations, many of which are DC fast chargers, that will fully recharge a battery in 30-45 minutes. Most charging takes place at home overnight when the cost of electricity and environmental impact is lowest.
EVs reduce GHG emissions from your vehicle by as much as 90 per cent, depending on the source of electricity.