Protect the Environment with Sustainable Composite Water Solutions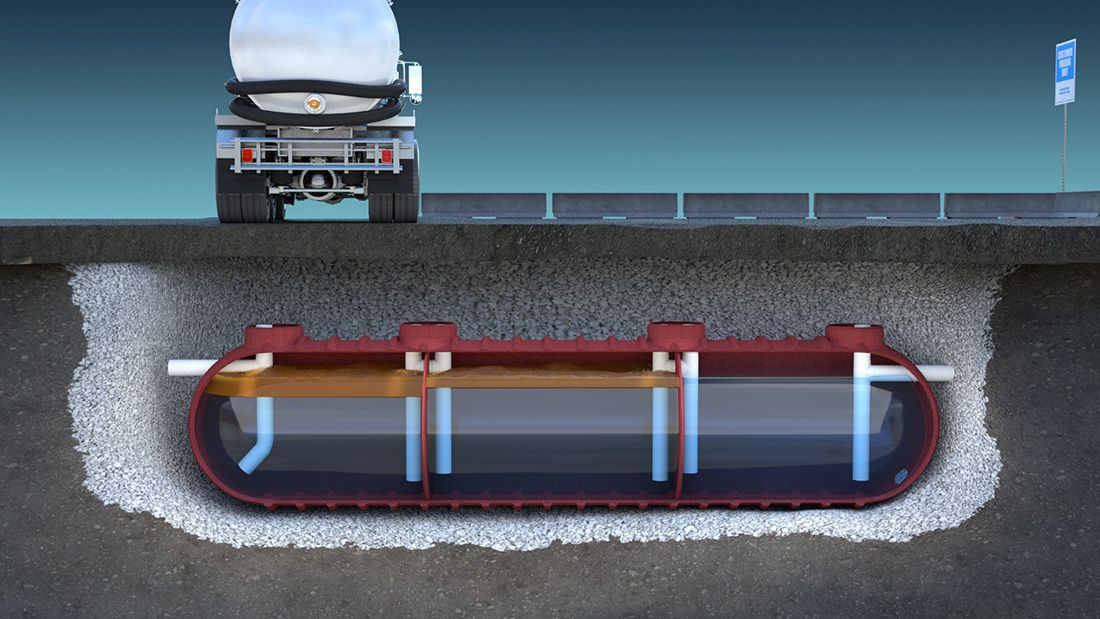 By Ann Ryan and Bruce Coe
After decades of recognizing the value of fiberglass for underground fuel applications at c-stores and carwashes, project owners and engineers at these facilities now recognize the value of fiberglass and composite materials for their water, septic and stormwater applications – from grease interceptors, septic tanks, carwash water reclaim tanks to stormwater management systems. In locations without reliable municipal water supply, the need extends to tanks for potable water and fire-protection water supplies as well. 
The Benefits of Fiberglass
Other than storing clean water supplies, the goal for most underground water systems is that they either keep polluted water from entering waterways and aquifers, or that they treat wastewater so that it is clean when it enters waterways and aquifers. In both cases, fiberglass storage tanks offer significant environmental advantages over other materials. The core advantage of fiberglass is that it is inherently resistant to both external corrosion from the surrounding soil and internal corrosion from the liquids being stored. Fiberglass tanks, therefore, require no protective lining or coating, which involves ongoing maintenance and inspections. 
North America's leading fiberglass tank manufacturers offer tanks designed to be watertight and structurally strong. They are designed to withstand H-20/HS-20 and H-25/HS-25 axle loads, and they are not limited by burial depth or water table. These fiberglass tanks can be manufactured to comply with the ANSI/AWWA D120 standard. They also comply with other industry standards that pertain to specific applications. 
Another material benefit of fiberglass tanks is that they are lightweight, which makes them easy to ship and install. For many property owners, engineers and contractors, weight is a valuable feature of fiberglass. In remote locations, especially when road conditions are difficult, it can be "a problem bringing in heavy equipment and loads," explains an engineer. "That's when it's a significant benefit to keep loads light."
A fiberglass tank manufacturer able to supply from multiple facilities translates into both lighter loads and shorter shipping distances – another environmental plus. Combined with the longevity of fiberglass installation, fiberglass tanks have a clear edge over other tank materials in terms of sustainability.
Grease Interceptors
Facilities that prepare and serve food have to deal with the fat, oil and grease (FOG) that need to be separated from wastewater before they enter a municipal system. That includes restaurants, grocery stores, airports malls and convenience stores. The simplest way to separate FOG from wastewater is through gravity. The wastewater flow is controlled so that the fat, oil and grease, which weigh less than water, have time to float on the surface of water. Grease interceptors can be customized to meet a site's specific specifications. 
Leading fiberglass tank manufacturers design their tanks to comply with IAPMO/ANSI Z1001 standards and the international UPC code. When these fiberglass tanks are cylindrical, the shape creates an additional benefit: a long flow pattern, which offers superior separation. In addition, the smooth, rounded walls of a cylindrical tank allow for easy, thorough pump-out and cleaning (as shown here). With no corners, there is no trapped debris that effectively reduces subsequent storage capacities. 
To accommodate the wide range of capacities needed for this product, some fiberglass grease interceptor manufacturers offer tanks in sizes from four to 10 diameters and in a wide range of capacities – often from as small as 1,900 liters [500 gallons] to as large as 113,000 liters [30,000 gallons]. 
Septic Tanks
Unlike with residential septic systems, wastewater from most c-stores, carwashes and rest stops are not diluted by greywater, such as from showers, washing machines and dishwashers. The wastewater at these sites is therefore highly concentrated and acidic. If the septic system is concrete, this results in even more aggressive deterioration of concrete than would occur when diluted by greywater. A California engineer at one such site explains why they now specify only fiberglass for its septic tanks: "Our problems with concrete over all these decades made us conclude that it's better to use fiberglass tanks. Even if it's a little more expensive at the start, we're looking for a good quality product over time."
Carwash Water Reclaim Tanks
In markets throughout North America, particularly in regions that value water reclamation and experience water shortages, regulations are in place requiring carwash water reclaim systems. While there is no federal requirement in either Canada or the United States, increasingly, customers need to meet regional or local mandates for the collection, treatment and reclamation of wastewater. 
Water treatment in carwashes takes place in an aggressive, corrosive environment. To ensure longevity of the installation, a corrosion-resistant tank is needed. One example of the benefit of fiberglass is when a carwash treatment system uses ozone. The only tank material compatible for treatment with ozone is fiberglass, with vinyl ester as the applied resin. In simple terms, ozone in water looks for something to attack. When the water isn't "dirty," the ozone attacks the tank material. Vinyl ester protects the fiberglass tank walls from the deterioration ozone would otherwise cause. In contrast, concrete walls would be extremely vulnerable to the damage ozone causes.
Stormwater Management
Increasingly, many convenience stores need either new or updated stormwater management systems. At times, a fiberglass stormwater collection tank is sufficient. However, often a more complete stormwater management system is needed, and pretreatment, filtration and infiltration products are needed. 
Often, as shown here, the solution is to install a pretreatment component that removes sediment, solids and heavy metals from stormwater runoff along with stormwater chambers, which provide detention, retention and/or infiltration. In some instances, filters are needed to remove liquid-bound and solid-bound pollutants such as hydrocarbons, solids and heavy metals. 
Property owners and developers look for quality and longevity for their projects. For instance, when composite chambers are manufactured to meet – or exceed – standards such as ASTM F2418, F2787 and F2922, their structural strength provides both design life and environmental protection well beyond that of chambers made of other materials. Some of the infiltration chamber products are certified carbon neutral and use renewable or recycled raw materials, which reduce the environmental footprint of a project. 
Lightweight and modular stormwater chambers designed for the option of installing a liner have an additional benefit. For instance, they can be configured as a water reuse storage tank for irrigation. Additionally, some companies design systems with an integral pretreatment stage that can be maintained separately from the remainder of the tank, which substantially reduces lifecycle costs. And when installed with hydrodynamic separators, they provide additional water quality protection to the tank. These small footprint systems easily remove gross pollutants such as total suspended solids, hydrocarbons and organic debris before the cleaned water is discharged into nearby waterways or a municipal wastewater system.
Material Advantages of Composites
The same material benefits that made fiberglass the material of choice for underground fuel storage carry over to the storage of all types of water. No matter what kind of liquid is being stored or treated underground, composite structures offer wide-ranging sustainability benefits and strong environmental protection.  
Ann Ryan has written for international publications for more than 30 years. As a communications consultant for Shawcor, she writes about sustainable products and solutions that protect the environment.
Bruce Coe is the regional sales manager, Western North America, for Shawcor's water market. He and his team specialize in Xerxes fiberglass water and wastewater tanks, and HydroChain stormwater management systems.