CARWASH PAYMENTS
By Chris Heismann
We've come full circle. From the moment the first carwash opened in 1914, carwash operators have needed a way to collect payment from their customers. For the first half-century or so, it was mostly the friendly attendant, ready to collect money and upsell services. Every customer was greeted, hopefully with a cheerful smile, services offered, the money collected, and their car washed. The attendant was not only a means of collecting payment but a key component of the carwash operator's marketing for additional services.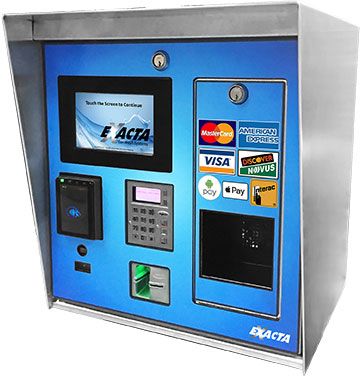 As carwashes evolved and automated and self-serve carwashes came into being, we moved away from the attendant, in favor of the humble coin mechanism. Invented long before the automobile was, the coin mechanism came into its own in the post-WW2 years and adopted to many different types of industries, from amusement to laundry, and of course, the carwash. But the adoption of the coin mech and automation led to the separation of payment collection and marketing.
Marketing at the point of sale of most carwashes became a collage of signs and logos. Less expensive than attendants, for sure, but far less interactive.
Codes became widely used as a form of payment when the petroleum industry began installing tunnels and automatics at gas stations. Protocols arose to allow a simple way for the customer to pay for a wash along with their fuel. They also offered marketing options, such as free gas with a fill up.
When credit cards became an everyday transaction tool for the common consumer, many carwash operators sought to add the ability to accept plastic, thus expanding the payment options for their customers. And with the same technology needed to accept credit cards often came the ability for operators to offer their own fleet and gift card options, further expanding the payment options available to them and their customers.
Along with Fleet and gift card options came additional marketing opportunities. The savvy operator leveraged these abilities of their point of sale systems to increase customer loyalty by getting out and selling customers prepaid gift cards or setting up businesses on payment plans. System manufacturers responded by adding new features, such as promotional discounts, monthly memberships, and even RFID systems so that drivers wouldn't even have to roll down their windows to buy a carwash. POS marketing options became slightly more interactive again as POS systems evolved from buttons and switches to monochrome and later full-color touch screens.
Ever evolving security for credit cards has led to the creation of chip and pin plus tap systems, which made their way into the carwash industry first for tellers for automatics and tunnels, and most recently for self serve bays and vacuums. The additional features of these EMV tap readers have allowed for more options, such as Interac Debit, Apply Pay and Google Pay.
EMV Tap has been a huge boom to payment systems. It allows quick payment, with fewer struggles associated with worn magnetic strips and dirty card readers. It works with most credit cards and Interac debit cards. They are far more secure than traditional magnetic card swipes because the account information on the card is uniquely encrypted every time it accessed. Each Interac Flash debit purchase is protected by a $100 maximum limit and a cumulative $200 contactless spend limit each day. And debit card purchases are protected by Interac's Zero Liability policy. The tap readers also allow the acceptance of the increasingly popular smartphone-based payment methods Apple Pay for iOS devices, and Google Pay for Android devices.