UPI Energy FS – Experience our Energy
UPI Energy FS
– Experience our Energy
By Tania Moffat
In the good old days going to the gas station was a pleasurable experience.
A friendly attendant in a clean, crisp uniform, usually adorned with a rag hanging out of his back pocket would greet you within seconds of your arrival. Customers were always asked if they would like their oil checked or windows washed. And, chances are if you went to the same station on a regular basis, it was likely staff knew you by name and what services you usually requested.
As gas prices spiked in the 1970s, these full-service stations began to disappear. Price wars erupted and customers searched for the best deal. Each successive price war led to the demise of more and more full-serve stations until self-serve became the norm. At UPI Energy FS, that is not the case.
Focusing on full-serve
At UPI Energy FS the full-serve experience is here to stay. While most of UPI Energy FS's stations have always been full-serve at self-serve prices, the company is upping its game. "Our new branding is catering to that old-style gas bar experience. We think there is an ever-growing population, that prefers not to pump their own gas or even get out of the car if they don't have to," says Robert McIntosh, general manager, UPI Energy FS. "We are one of the few that still offer that complete full-service at self-serve prices."
Tracy Hoffman, retail manager, oversees UPI Energy FS's gas bar network. "All of our customers are welcomed by our friendly attendants who will wash their windows, offer to check their fluid levels, and bring convenience items from the store directly to their car. Customers can then pay from their vehicle with a wireless point of sale device. We want customers to come back to us because they received extraordinary service," she explains.
Thirty of UPI Energy FS's 34 stations are full-serve. Propane is available at all sites either through a filler station or propane exchange program and several stations have carwashes. UPI Energy FS also supplies energy to a handful of unbranded wholesale accounts.
"As we reestablished the importance of extraordinary full-serve at our sites, we've promoted our superior performers. We have them mentor other station owners and their staff with what they've found to be successful based on their experiences," says John Canjar, director, sales and marketing. "By having owners and managers share how they grew their sales, they help our other locations to implement similar changes. In this respect, we are developing a brand-standard of extraordinary service within our training."
"It takes time to train a person to manage our business and customers properly. Even with owner-operated sites, we believe their customers are our customers and we want to empower them to offer extraordinary service. Our full-serve offering leads to repeat customers and increased sales," adds Canjar.
A history of quality, dependability and value
The foundation of UPI Energy FS has been an integral part of the cooperative and petroleum landscape in rural Ontario for over a century. Its roots can be traced back to the early 1900s when farmers began to form buying groups to secure preferred prices for their farm needs. These groups eventually formed the first cooperatives.
UPI Energy's story begins in rural Ontario of 1925. Early pioneer petroleum clubs acted as buying groups to get preferred pricing; these buying groups eventually became United Cooperatives of Ontario or UCO. The cooperative expanded over several decades to include farms, businesses, and residential customers throughout rural Ontario.
The early 1980s recession was hard on many companies, including cooperatives, which found it harder and harder to meet member demands. UCO was feeling the pressure and experiencing financial difficulty by the early 1990s. While the company as a whole was suffering their energy division remained profitable. To recoup some of its losses with UCO, Suncor Energy Products Inc. (Suncor) and UCO joined forces in a 50/50 joint venture and formed UPI Energy in 1991. Suncor supplied the energy resources, while UPI Energy provided the customer base which would serve as a fuel distribution system for the cooperative network in Ontario.
"The joint venture was a pretty new idea at the time; it was intuitive as it foreshadowed what could be and what was coming down the road for UPI Energy. Joint ventures would become part of our overall structure and are still an integral part of our business," says McIntosh.
UPI Energy provided petroleum, propane, and lubricants to tens of thousands of customers through a variety of sales channels. It was and still is the supplier of choice for Ontario's agricultural cooperative system (still a vital part of UPI's success). Clients included agricultural cooperatives, commercial, industrial and automotive industries. UPI Energy became a leader in Ontario's energy services offering dependable service, quality products and great value to its customers.
Acquisitions and change
As of 1994 United Cooperatives of Ontario remained the largest farm supply and marketing co-op in Ontario with 40 member co-ops, several affiliates and 21 independent dealers. Unfortunately, it was still in financial trouble. GROWMARK, Inc. (GROWMARK) a large regional American cooperative, based out of Bloomington, Illinois offered to purchase UCO's assets, which included a 50 per cent share of UPI Energy. The move into Canada was a first for the American company and it faced several hurdles including federal approval from all levels of government before the sale was finalized in February 1995. The purchase guaranteed that the Ontario co-op network would be maintained along with 200 of its staff, and included UCO's ownership in UPI Energy.
In 2004, UPI Energy underwent a name change to become UPI Energy LP to pay patronage to its owners. Being owned by two multi-billion-dollar companies made some customers question the company's local roots. "We needed to reinforce our position as a local supplier of quality energy products and services, and most importantly to continue fostering our connection with the communities we served. To this end, we created a family orientated TV presence that would enter the homes of rural families in our markets," says Canjar. The first 'kid commercial' aired on CTV in 2015 and received rave reviews including fan mail. The popularity of the ad led to the creation of several more. A second ad featuring its propane products was made in 2016. In September 2017 a third ad ran announcing the company's name and brand change to UPI Energy FS and a fourth in 2018 promoted its full-serve stations.
"UPI Energy LP was, and still is, the third-largest independent petroleum company in Ontario. We are the largest supplier to the agricultural community and our commercials reinforced our exceptional level of service and more importantly helped us connect with our rural customers and local roots.," states McIntosh.
Over the years UPI Energy FS has made 12 acquisitions, mainly small rural companies in Ontario which supported its customer base. Five of these purchases occurred prior to 2010 as UPI Energy.
Five-year strategy
"In 2015, UPI Energy LP's senior management team sat down and looked at who we are, who we want to be and where we wanted to go. We developed a five-year strategic plan to reach 600 million litres annually. That strategy has paid off," says Jeff Brown, director of finance.
"When UPI Energy was first formed, we focused on our bulk delivery business, the more profitable sector. Our retail gas bars didn't get the focus they deserved. We have stepped that up over the last five years as part of our strategic plan," says Canjar. "Like our energy delivery services, our gas stations are rurally based to serve our markets. One of the facets of our strategic plan is to encourage a notion of family so that people understand that our gas bar network, bulk drivers, branch employees and everyone are part of a bigger picture."
UPI Energy FS gas bars started with a complete rebranding effort two years ago beginning with company-run locations. The full rebrand across all of its retail gas bar stations is expected to be completed over the next three years. UPI Energy FS's 34 stations are either company-operated (13), run by commission- based operators (13) or owner-operators (eight). Meanwhile, stations are improving their image by emphasizing their customer service. The unified look and customer service have already set a precedent across the brand and their customers have noticed.
"We don't own a refinery, so we don't have a competitive advantage in terms of costs. Our extraordinary customer service is a key differentiator for us in the marketplace. It sounds simple, but it makes a difference to our bottom line. Whether it's at our gas bars or through our bulk delivery business, customer service is our core competency. We flow that service into all of our products, like our Dieselex Gold and diesel exhaust fluid (DEF). It's all part of the same UPI Energy FS experience," explains Canjar. "We are in the early stages of this model and are on target to make the UPI Energy FS experience different."
That's why UPI Energy FS has district offices across Ontario, to take care of all of its customers locally. Offices are located in Cambridge, Guelph (southwestern Ontario), Hanover, Putnam and Utopia as well as one location in Paisley, Ontario under McCullough Fuels: a division of UPI Energy FS. Drivers and salespeople are also located in the communities where they make deliveries. Farmers are UPI Energy FS's niche, but it also delivers energy resources to construction, transport and other industries that require energy services.
"We began selling our DEF three years ago. UPI Energy FS recognized that the demand for DEF in diesel engines would continue to grow as engine manufacturers strived to meet emission standards. As of today, we are over our initial projections by 400 per cent. Our DEF sales will surpass 12 million litres for 2019, growing on average 3O per cent per year. We were able to enter the market and capture a substantial share of it very quickly," adds Brown.
In addition, UPI Energy FS's premium diesel product Dieselex Gold, is a top-tier fuel sold off of its bulk delivery trucks. Dieselex Gold serves to function in today's high-tech diesel engines to allow them to run at peak-performance. It is one of UPI Energy FS's most successful products.
UPI Energy FS recently shared its rollout model for Dieselex Gold with the United Federation of Agriculture to introduce Dieselex Gold into the Alberta marketplace. A year later, and the product has been an enormous success, proving UPI Energy FS is ready to create demand wherever there are markets across Canada.
"We are on target to meet all of our goals a year early," says UPI Energy FS's GM, McIntosh. "Five years ago we sold 475 million litres of energy products. We believe we will be over our target of 600 million this year. Our gas stations account for 125 million litres (20 to 25 per cent of our business). The rest of our volume is sold through our direct delivery to the end-user."
UPI Energy FS
When UPI Energy LP's management team developed its strategic plan in 2015, they had no idea that its ownership was going to change. "We came out of the old farmer cooperative system and the funny thing is we've gone full circle and returned to our cooperative roots," Brown says of the changeover.
GROWMARK bought out Suncor's 50 per cent stake in UPI Energy LP on Oct. 31, 2016, ending their joint venture of over 20 years. UPI Energy LP's holdings included Beselaere Fuels of Delhi, Scott Fuels of Woodstock and McCullough Fuels of Paisley. An agreement was reached whereby, GROWMARK, would continue to be supplied with petroleum by Suncor in Ontario. "We wanted assurance from a refiner in the province that we'd have product and Suncor wanted assurance from a distributor that their product would available in the marketplace. It worked out well for both of us," said Kevin Carroll, GROWMARK's vice president for energy and logistics in a press release.
"It was a difficult time; we changed our name to UPI Energy FS and amalgamated with GROWMARK's other Ontario division, FS PARTNERS. This created two brands for our company – UPI Energy FS (energy brand) and FS PARTNERS (agronomy brand). Bringing together these two businesses and cultures wasn't easy. In addition to all this we had to change our enterprise resource planning system (ERP) to align with GROWMARK's. It was the ultimate change trifecta of people, culture and systems. This period highlighted the strength of our people. To be able to endure all that change and still perform is a remarkable story," UPI Energy FS's finance director Brown explains.
UPI Energy FS's biggest asset is its' people. With a family-based company culture, UPI Energy FS prides itself on promoting from within. The company has several highly-skilled, tenured staff that have been able to assist with keeping the strategic plan on track despite the challenges that arose. UPI Energy FS employs 258 staff, and together with FS PARTNERS there are 424 employees in the Ontario GROWMARK system.
Energizing the community
Today, agronomy services continue to be offered through FS PARTNERS. "Because we are a cooperative, our members pay into a membership and we in turn, based on profits, pay a patronage back to them at the end of the year. As part of our offerings we provide various tools including market updates on our website. An AgriFinance product is offered through our partnership with Scotiabank. When purchasing our products, growers have access to financing to help them through the growing season. Typically, loans mature after customers' crops have been harvested and marketed," explains Brown.
Various service plans assist UPI Energy FS's customers with their unique energy needs. The Comprehensive Fuel Service Plan is tailored for businesses who require storage and delivery of energy products to their sites. UPI Energy FS provides state-of-the-art storage equipment for their sites outfitted with electronic sensor to monitor their fuel inventory 24/7. Delivery of UPI's high-quality energy products is automatic based on a customer's needs. The plan includes annual inspection and maintenance of storage equipment by UPI Energy FS and flexible payment options.
UPI Energy FS's Price Guard program gives consumers and businesses the power to manage their resources by guaranteeing a pre-set maximum price on customer's fuel purchases for up to 12 months. The plan's flexibility allows customers to pay less if market prices decrease.
Focused on environmental stewardship, UPI Energy FS was the first fuel marketer in Canada to use double-walled above-ground fuel storage technology in gas bars. Above ground fueling stations reduce the property's environmental impact and allows them to be easily relocated. UPI Energy FS currently has four above ground fueling stations across the province located in Woodstock, Glencoe and two in Chatham. Three additional above ground fueling stations have been built and are ready for future installation.
Companies who require easy access to fuel for their fleets can choose between UPI Energy FS's two charge programs. EnergyCard provides quick access to fueling at over 34 locations province-wide with no annual or transaction fees. Expense controls, carwash and vehicle repairs, detailed monthly billings and payment options help keep fleets in motion. UPI Energy FS's IPN program is ideal for fleets with multiple users. It allows companies to identify specific products for each user and provides access to more than 60 fueling locations and self-serve card lock fueling facilities across Ontario.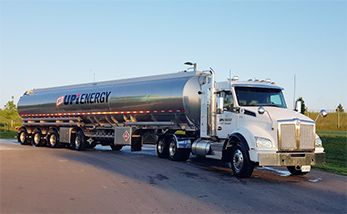 "As part of our joint venture with other cooperatives we assist them with the purchase, maintenance and repairs of their fuel trucks. UPI Energy FS maintains its own fleet which is subject to strict maintenance guidelines. Currently, our fleet of petroleum and propane trucks includes 63 trucks with an additional 46 throughout our cooperative joint ventures. We deliver energy products from the Quebec border in the east to Windsor in the west, south from Niagara and as far north as Timmins, Ontario. We also provide emergency response measures across the province, to serve our employees, customers and market," states Robert McKenzie, director retail and operations.
The greatest support that UPI Energy FS provides to its members is gaining market efficiencies through working partnerships in shared markets. These efficiencies are reflected in the member cooperatives bottom line. Over a half-billion litres of UPI Energy FS products are sold annually through these partnerships, ranking UPI Energy FS among the top three suppliers in rural Ontario.
"We maintain a solid agricultural presence in Ontario today, supplying our direct customers and all of the cooperatives in the province with their fuel. UPI Energy FS has 50/50 joint ventures with most of them and owns almost 50 per cent of the retail energy sector in Ontario," McKenzie adds.
Looking ahead
"We have to offer more than a competitive price, and that is our extraordinary service. Our focus is to have our entire team be the best provider of fuel in the province. The old days of always receiving excellent service are gone at most service stations. We want our customers to know they will have a great experience every time. That means everyone from gas pump attendants to management has to be on board in order to achieve consistency across the brand," adds McKenzie. As UPI Energy FS looks to the future, it will continue to be a growth orientated company, ensuring extraordinary customer service is at the forefront of everything it does.
Tania Moffat is a freelance writer, editor, publisher and photographer. She has worked in the publishing industry for the last 15 years on a wide variety of B2B and consumer publications, both in print and online. You can connect with her at info@chiccountrylife.com.