New Technologies in Carwash Doors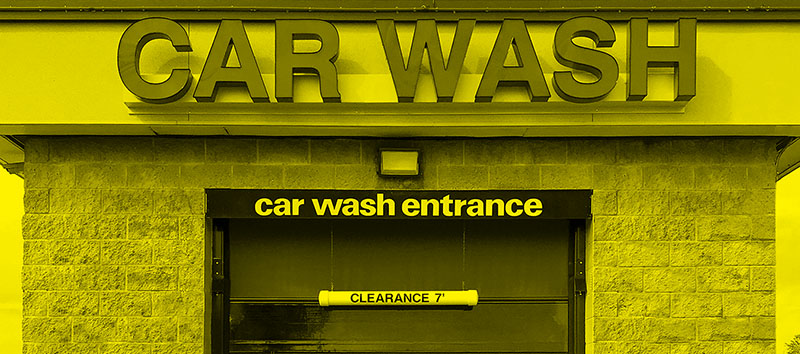 By Josh Hart
As we all know, change is inevitable. The world of carwash doors and openers is no different. Over the years we have seen trends change significantly. Going way back to the early years of carwash doors, there really wasn't any products designed specifically for the carwash market. That means that standard products that were designed for dry warehouse environments were being used in carwashes as well. This typically consisted of steel insulated doors operated by an off the shelf electric opener. 
It was quickly realized that these products were not holding up in the harsh carwash environment. Therefore, the pneumatic opener was introduced to the market. Pneumatic openers revolutionized the carwash market by utilizing an opener that could withstand the excessive water and chemical spray from the carwash process. Constructed of corrosion resistant components these pneumatic openers not only outperformed electric openers, but would last much longer before needing to be replaced. They also increased the speed of the typical door by up to three times that of the standard electric opener. 
Although pneumatic openers drastically improved the opening and closing efficiencies for overhead doors, the increased speeds and increased cycle capabilities was outperforming the doors. Steel insulated doors would absorb the water from the wash and would drastically increase in weight. The additional weight and lack of corrosion resistant materials led to doors breaking and falling apart in a quicker timeframe. 
This led to the next big improvement in carwash doors, which was the introduction of the polycarbonate door. Polycarbonate doors are constructed of lightweight polycarbonate and aluminum. The doors were designed with sloped rails to shed water from the door and were packaged with hardware materials such as stainless steel, plastic, and aluminum. 
For years the polycarbonate door packaged with a pneumatic opener was the staple in the carwash market. Over the years, multiple improvements have been made to both the polycarbonate door and pneumatic openers and this pairing continues to be a great option for your carwash door needs.
However, the introduction of the high speed vinyl roll up doors to the market has given us more options when considering the best door and opener for your application. Vinyl doors are designed with all corrosion resistant options so they are a viable option in all carwashes. They operate at high speeds and offer a breakaway feature that is unavailable with the polycarbonate overhead door which has led many to start using this option over the overhead door style. 
The trend to vinyl roll up doors has also brought a re-introduction of the electric opener in the carwash market. Technology and engineering have given us new options with electric openers that were not available in the early days of carwashing. These new electric openers are designed for use in corrosive environments. Some of these improvements include sealed motors, coated internal windings, and Nema 4X rated control panels. 
The improvements and advancements of the electric opener has made it a viable option for overhead polycarbonate doors as well. Like most products, there are many options available when choosing to go with an electric opener. Most of the options available are determined by selecting your control package option. What type of wash you are operating as well as the capabilities of your carwash equipment will determine what type of control options you should choose. Be sure to discuss with the product manufacturer or your distributor to see what is best for your application. 
Some of the new technologies that are available with electric openers include:
Eliminating the need for cam switches on the gearhead: By using an encoder mounted on the shaft the opener can sync with the door by tracking the revolutions of the shaft. This allows for setting of the door open and close limits through the control panel rather than physically setting the door travel limits. This feature improves accuracy in the door travel and saves time and effort in the installation and set-up process.
Individual open and close travel speed adjustment: This feature allows you to set the open and close travel speeds independently. Most people want their doors to open at a fast speed to allow vehicles into the bay, but want to slow down the close travel speed for safety purposes. You can also set a cushion stop on open and close so your door will reduce speeds for the last 12 inches of travel to avoid slamming at the header or on the floor.
Touch screen capability: New control panels have abilities to view or change settings by utilizing a touch screen built into the face of the control panel. Now you can easily change limits or settings of your opener without opening the box or using any tools to accomplish your tasks.
Self diagnostic features: New technologies with variable frequency drives gives you the capability to monitor inputs and diagnose problems with the door opener. Simple codes transmitted to the control panel screen can tell you if you have a problem with photo eyes, carwash inputs, or even mechanical load errors.
Time of day operation: You can easily program your doors to operate at specific times of the day. Designate hours of operation for your wash and program your controller to have the doors only operate during open hours.
Built in closing timers: You can activate the feature to have your door close automatically after each car by utilizing the closing timer feature. 
Temperature control settings: Program your control panel to have your doors held open if the outside temperature reaches a determined temperature. If the temp drops below the designated temp it would automatically put your doors back into operating mode. 
Battery backup: Have an emergency exit option in case of power failure. Add a battery backup to the system to allow customers to open the door if they become trapped in a bay with loss of power at the location.
Remote monitoring: Do you want to be able to monitor your doors or bay temp from a remote location? You can choose a control package that will allow you to view the position of your doors, your internal bay temperature, or any error codes associated with your opener. This can be set up to send you alerts as well if your doors are not operating properly or if your bay temperature drops below a certain temp. 
These are a few of the advancements in technology that are available on some of the new electric openers. It is important to note that there are varying levels of control options associated with the new style electric openers. Be sure discuss with either the product manufacturer or your distributor to get a control package that best suits your needs. 
Josh Hart has been with Airlift Doors, Inc. for 23 years. He has held positions in production, service and installation, and sales. He spent the majority of his career with Airlift in sales prior to taking over as company president in 2014.